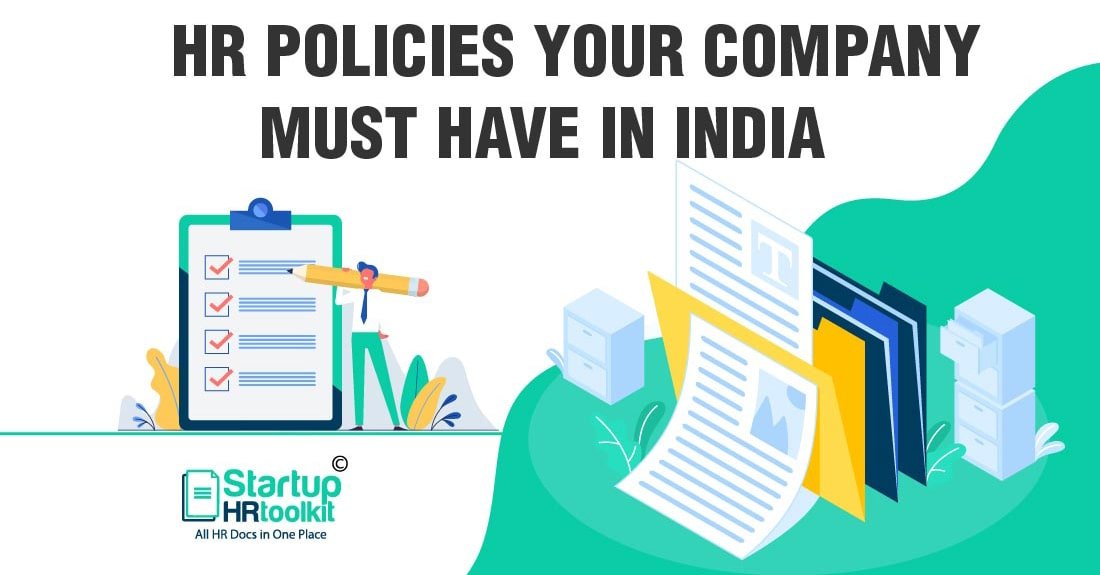 20 HR Policies in India: Your Company Must Have in India (2021)
HR policies are the framework and guidelines by which the employees of an organisation are managed. They work on making the company compliant to the local government laws. This happens by creating processes to meet the ever-changing government requirements. HR policies in India truly focus on striking a balance between safeguarding its employees and the company's interest and vision.
To make the process of creating company policies easier and save time we've created the StartupHR Toolkit. It provides ready to use, fill in the blank templates of over Largest Collection HR documents, letters, policies and calculators.
More than 2000+ clients including Dream11, Naturals, Tata Project, Zolo Stay, Apollo Munich are using our Toolkit to Save Time And Slash their HR Bills. It's your turn now.
Before listing the HR policies your company requires, let us understand HR policies in India
What is The Purpose of HR Policies in India?
The purpose of HR policies to simply manage employees in a productive manner. The creation of HR policies leads to setting a base through which employees can be managed well and situations can be handled. It also helps avoid compliance issues and legal backlash.
The HR department is also the first department to know of a situation like an argument breaking out or the company's employee productivity falling. Therefore, a good HR department is also essential as they can sense these issues way in advance and can take measures to avoid them. This helps in protecting the company in the long run.
However, for an HR department to be able to protect the company they require a legal backdrop. Having the right HR policies in place helps the HR to take timely disciplinary actions for future conflicts. Since the policies of a company are documented there can be no bias or partiality in their implementation.
These 20 HR Policies in India Must Have in India
1. Car Lease policy
2. Employment Contracts
3. Code of Conduct
4. Employee Wages
5. Gratuity Policy
6. Employee Provident Fund
7. Leave Policy
8. Sexual Harassment in The Workplace Policy
9. Maternity and paternity leave Policy
10. Termination of Employment Policy
11. Adaptive Work Culture Policy
12. Communications Policy
13. Nondiscrimination Policy
14. Dress Code Policy
15. Probation and Confirmation Policy
16. Work from Home Policy
17. Grievance Policy
18. Awards and Recognition Policy
19. Travel Policy
20. Performance Management and Appraisal
Types of HR Policies in India
Majorly, there are two types of HR policies in India. General policies and specific policies.
1. General policies
General policies are the kind of policies that every organization requires and has. They are usually formulated by the leaders of the company.
2. Specific Policies
Specific policies are the kind of HR policies which relate to certain issues or concerns of a specific organization. They are crafted specifically to suit the organisation by the HR department. These policies relate to issues concerning the compensation, recruitment, benefits, etc of the employees.
20 Most Important HR Policies in India 2021
It is the sole responsibility of the HR personnel to keep a company compliant to the local laws of a country. Therefore, the company policies should be created with the utmost understanding and experience. Below, we've included a list of 12 important HR policies that your company must have in India. The list is no particular order of importance.
1. Car Lease Policy
A car lease policy is a flexible, affordable and convenient solution for car ownership. This policy helps the employees access their desired car without the hassle of down payment, bank liability, vehicle registration, insurance, service or maintenance. At PumPumPum, you can Lease high-quality pre-owned cars near you in a comprehensive package.
Employees opting for the car lease policy would pay a monthly lease rental that is calculated based on the market residual value of the car, the applicable interest rate and tenure of the lease. Eligible employees for lease rental would be entitled to reimbursements for the expenses done on fuel or driver's pay. All these reimbursements will be deducted for the respective employee CTC.
After the completion of the lease period (which is 6 months to 24 months), the employee gets a choice of upgrading to another car as per the internal policy. Employees can also convert their existing car into a lease and enjoy the benefit of this scheme. PumPumPum is the best option for Startups and SME's. The Leasing is cheaper than any other monthly EMI of a Car. You can visit PumPumPum for more details.
2. Employment Contracts
India does not legally require organizations to make employment contracts for local employees. However, it is an important piece of document that every organization should create. Employee contracts are like an umbrella which covers all employee-related agreements and contracts.
It is important to have these documents as the Indian employment laws are a diverse and complex framework to navigate. Therefore, having up to date documents to prove the company's compliances will protect the company for several years ahead.
A few important laws that you must refer to before creating the company's employment contracts are wage laws, labour laws, the contract act, 1872 and the local state's employment laws.
3. Code of Conduct
The code of conduct policies of a company contains the vision, ethics and the mission of the organization and also, It is created to build and maintain the right business environment for employees. It contains the rules of work that the employees of the company much abide by.
In India, policies such as equal right policies, electronic usage policy, dress code, enabling work environment, media policy, conflict of interest, etc are included in the code of conduct policy.
Furthermore, the code of conduct must include the procedure to report a breach of the code of conduct.
4. Employee Wages
Managing employee payroll is an important part of an HR department's job, however, ensuring that employee salaries are competitive in the market and are compliant with government policies is also an important part of it.
In India, several acts cover the wages of an employee. One of them is the Minimum wage act, 1948. and also, It sets the minimum wages that a skilled and unskilled labourer should receive. It enables employees to earn the 'basic cost of living'.
Furthermore, the Payment of Wages Act, 1936 ensures that the employee receives the right monthly payment on time and without any unnecessary deductions.
Therefore, it may be tempting to only focus on the competitive market rates, however, it is important to pay heed to the compliances required for every employee's wages.
5. Gratuity Policy
Gratuity is a company's way of appreciating the service provided by an employee for five or more years.
A company pays an employee a gratuity when an employee resigns, retires or is laid off. It is an important practice in business and to have happy employees. Furthermore, It is also a legal compulsion to pay employees gratuity under the payment of gratuity act, 1972.
Therefore, you must have a gratuity policy in order for your organization.
6. Employee Provident Fund
The employees' provident fund act, 1947 provides employees with income security during their retirement also, It is a social security fund that gives employees benefits like retirement pension, medical insurance, housing care and more.
It is worth noting that only organisations with more than 10 employees have to compulsorily have a Provident fund.
However, you should have a provident fund policy in your organization to make things easier.
7. Leave Policy
The leave policy is created to give employees a clear picture of the number of leaves an employee is allowed to take annually. Furthermore, it should also mention public holidays. Furthermore, the leave policy must also mention the percentage of salary cut that an employee will see in the case of unpaid leaves or half-days.
Legally, India has three national holidays where no organisation is allowed to be open without permission. However, organisations like factories, hospitals, travel agencies, etc are exempt from this and are allowed to work for 24 hours a day. However, under the Factories Act, 1948, they must be paid for those days and should be paid for overtime.
Furthermore, every organisation should have an annual list of leaves that the employees will be getting.
8. Sexual Harassment in The Workplace Policy
Every organisation must take extra steps to make their workplace a safe environment for women to work in. It isn't just a legal requirement but also a moral obligation. In India, laws have also been updated to make the safety of women in workplaces a priority.
The 5-year-old sexual harassment act, 2013 has taken the Indian business world by a storm. The act is well praised and has even lead to closing down of a few companies. Furthermore, the act protects not just the employees and interns of an organization but also any woman visiting the company or a woman customer. Every organization must include a sexual harassment policy to be able to address all complaints actively.
According to the act, every company with more than 10 employees must set up an Internal Complaints Committee. Furthermore, the steps that should be taken in such cases should also be mentioned in the policy.
*For more information, you can check out – our blog post *
9. Maternity and paternity leave Policy
Every organization employing more than 10 workers is required to follow the maternity benefits (amendment) act, 2017.  The maternity act is perhaps one of the most popular HR policies in India Also, It outlines the benefits and the leaves that a pregnant woman who has worked in an organization for 80 days is entitled to.
Under the act, your policy must include at least a 26-week paid leave to a woman for the first two children and a 12-week leave subsequently.
Though there is no legislation for paternity leave in India, there is, however, a bill called the Paternity Benefit Bill in 2017 has been upheld by the government.
This has truly brought in the conversation of equality for both the parents and has been applauded by the citizens of the country.
10. Termination of Employment Policy
There always comes a time when an employee has to be let go. Such situations always have heavy emotions attached to them. Therefore, it is important to create a leave policy for your organization so it guides you through the steps of letting an employee leave a company.
This will help the HR personnel carry out the correct procedures according to the federal laws. For example, it should be noted that companies aren't allowed to terminate employees without notice.
In order for the employee to be compliant and also, it is important for a correct and in-depth termination policy to be created.
11. Adaptive Work Culture Policy
Work offices look a little different than they used to a few years ago. Today, more and more employees seek for flexible work options such as work from home options or 5 day work weeks.
Though it is not a legal requirement to adapt to the changing times, it isn't smart to stick to the traditional work patterns either. Having adaptive work cultures helps employees be more productive as well as improves employee engagement. This is an HR policy in India that is often overlooked, however, should be included.
12. Communications Policy
A communication policy helps establish and maintain open communication for employees throughout various levels of the organization. This policy includes your company's policies for e-mails, mobile phone usage, telephones, notice boards, memos, etc. also, It must place the correct mechanisms to update existing technology as well as communication channels frequently.
13. Nondiscrimination Policy
Discrimination can take several forms, it can be based on prejudices of age, colour, sex, caste, creed or more. However, it is an employee's fundamental right to be treated equally and without discrimination.
Aticles 14, 15 and 16 grant these rights to every citizen in the country. Therefore, every organisation must create a company policy that does not permit any kind of discrimination and must state the repercussions of the same.
Additional Employee Policies & "HR policies in India 2021" to Boost Your Company – StartupHR Toolkit
Let us get started.
 14.
Dress Code Policy
 The dress code policy exists to make working more professional and also, promote a better work environment. A good dress code policy is a set of guidelines to understand what is appropriate to be worn at work. Having a laid out policy ensures that the employees are well dressed for meetings and promotes the right work culture.
 15.
Probation and Confirmation Policy
 When a new employee is onboarded they are usually kept on a probation period. Which commonly lasts for three months or more. It gives the company time to judge an employee's performance and also the conditions under which the employee will be confirmed into the company. Probation periods are mandatory for all employees of an organisation. Therefore, this means that the employee gets a chance to understand the work environment and the workload of a company.
The probation policy includes the terms and conditions that the employee should follow during the probation period.
 The policy must include the probation time period, as well as procedures, post the confirmation also, it should include the code of conduct, the performance expectations and goals of the employee for the company.
16. Work from Home Policy
 A Work from the Home policy is an agreement between an employer and employee to grant the employee the privilege of working from home. It should clearly specify the work timings, deliverables and clear procedures. Though there are no laws regarding these, having a clear and definitive policy will be helpful. It must include the procedure through which an employee can apply for the privilege of working from home and mention in detail who is eligible for sure privileges.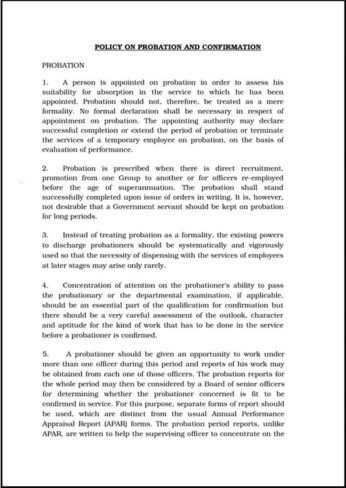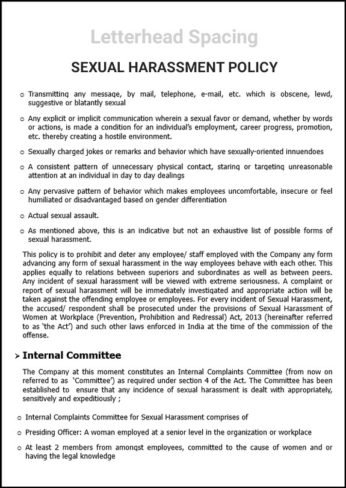 Ready to Use Largest Collection HR Docs, Email Templates, Job Description, Salary Calculator

17. Grievance Policy
 In India, as per section 9C of the Industrial Disputes Act, 1947 every employer employing at l east 20 workmen, is required to set up a Grievance Redressal Committee. Grievance regarding job harassment, sexual misconduct, unfair decisions and more should be heard and should have the policy to resolve the same. Meanwhile, HR policies such as the grievance policy are extremely important for the growth and proper functioning of an organisation.
18. Awards and Recognition Policy
 The rewards and Recognition Policy is created to give employees a one time reward or an award for outstanding performance. It is created to help encourage employees to improve their performance whether individually or as a team. The awards and also recognition milestones are built according to the overarching company vision and objective. The reward can be both monetary or non-monetary.
19. Travel Policy
 In the necessary requirement of an employee being required to travel for business-related work, the travel policy is created. This reimburses the cost of the travel to the employee for business approved travel costs. The travel policy must mention the requirements for proof, the procedure of filing for reimbursement, authorization authority as well as the exceptions to it.
20. Performance Management and Appraisal
 The performance management policy is one of the HR policies created to give employees a clear understanding of what is expected of them. It provides an appropriate framework within which the performance of an employee can be managed. This can be done through the implementation of various tools, techniques, as well as processes.
 While performance management includes identifying, measuring, managing and developing the performance of human resources in an organisation. Performance appraisal is an ongoing process of evaluating an employee's performance and therefore, should be a part monthly HR processes.
In Conclusion
It is the sole responsibility of the HR department to make sure the company's policies are compliant with the local laws of the state and the country. Furthermore, it is important than HR personnel to know these laws and implements the correct procedures. While creating the company's policies the right care should be taken as India's corporate laws are complicated.
If you're unsure about where you should start building your company HR policies then you should check out the Startup HR toolkit
The right policies can help avoid heavy fines and legal procedures in the future.
Click Here For View Demo Documents: https://www.startuphrtoolkit.com/demo
Sign Up Here to Get The Latest Update And Special
Offer On Largest Collection HR Documents