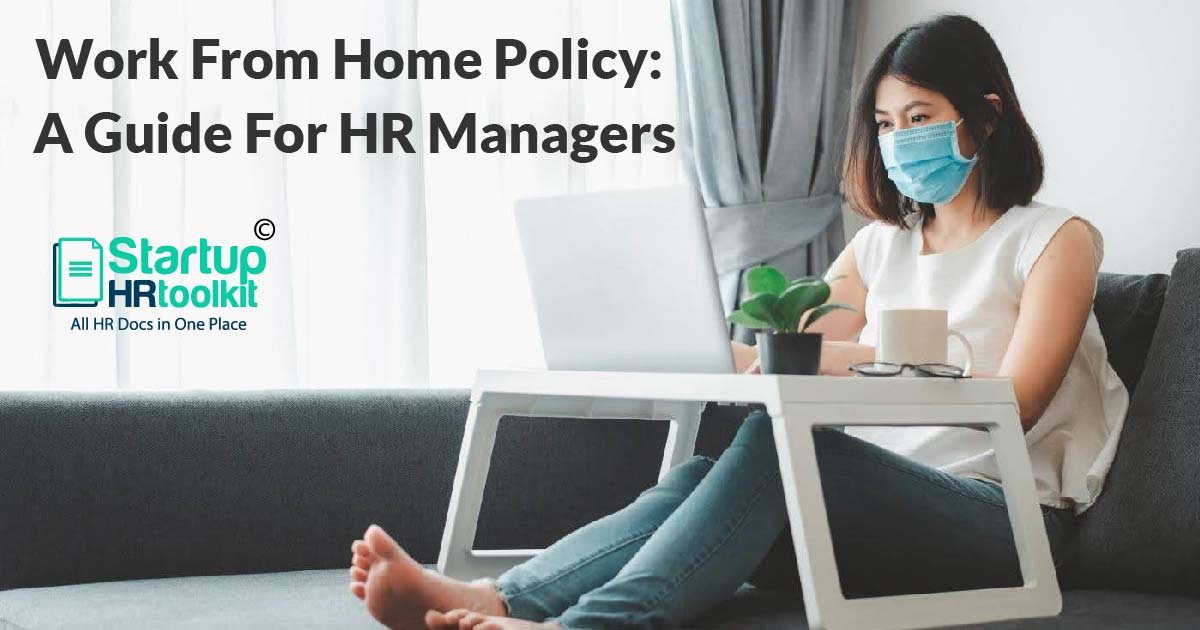 How to Create Work From Home Policy in India 2023 (Template)
A new shift in company policies and structure is making its way to all of us. During the current challenges that the Pandemic poses, working from home has seen wide adoption as a permanent structure of working. Companies like Twitter, Zapier, and even Google are adopting this structure, work from home policy in India can very easily become the new normal. This is why your company should also have a work from home policy defined for your employees.
Work from Home policy in India can be defined as an employee working from their house, apartment, or place of residence, rather than working from the office.
The work from home policy can be defined as an agreement between the employee and the employer, to allow the employee to work from the comfort of their homes.
Though working from home can be challenging, it can be made smoother with clear communication and tailor-made policies for relevant jobs.
The Human Resource department should understand the goals and the processes of the employer while creating the work from home policy. The policy should be clearly laid out with details kept in mind to make sure the arrangement of working from home benefits both the employee and the company.
If you are working on creating a work from home policy you should check out our ready to use StartUpHR template kit to make your policy creation process easier and faster.
In any case, if you are creating a work from home policy here are a few elements that you should keep in mind
How do you Create a Work From Home Policy?
1. Clearly Define who is Eligible for Working From Home
Working from home is a huge privilege given by a company to an employee. However, such privileges should only be given to employees that are worthy of it.
Furthermore, every job doesn't suit the work from home structure. Certain jobs that require in-person participation. Make sure there are clear guidelines for who is allowed to take the work from home benefit and who isn't.
Here are a few things you can keep in mind while selecting employees to work from home.
1. Take feedback regarding the employee's reliability
2. The employee should also have a strong work ethic
3. Make sure your personal bias is kept separate
4. Understand if the employee has the resources to manage to work from home
5. Understand if their job profile can fit into a work from home structure
Keeping these points in mind will help you make better decisions about which employee should be given the privilege of working from home.
Clearly defining it from the beginning helps employees understand the rules and avoid harsh feelings in the future. You can also set a percentage of days that the employees can work from home. For example, you can make every Saturday a work from home day.
2. Approval Process
Make sure employees know how to apply for their work from home privileges. They must know about the process of applying for it. Apart from that, create a thorough process for future approvals required by the employee to solve problems on a priority basis.
It should also be confirmed that the employee has understood the process of applying for work from home privileges. The approval process for that should be laid out.


3. Expectation Setting
Once you've chosen the employees that will get this privilege, start defining the expectations that the company will have from the employees. The employee's job description will come in handy here.
Though the employee may not be around in person, they must be held to the standards of other employees. You should definitely include the working hours (usually 9-5 pm) that the employees are expected to be available during.
The company's work from home policy must include the timings for lunch breaks and the leaves that are permitted monthly. Any other expectation should be discussed and set in the policy.
Here are a few things you must mention in the policy:
1. The clear work hours that the employee must be available during
2. The method of tracking the employee's productivity
3. Mention the responsibilities of the employee
4. Who will track the employee's performance and work hours?
Mentioning these things in the policy helps give a clear understanding of the expectations an employer has from the employee. Furthermore, it avoids any discrepancies regarding the expectations of the employee.
4. Guide Hourly Work
Provide guidance for employees to be able to track and prove their working hours. Employees working from home must submit their hourly work and details to their managers. Your work from home policy will be ineffective without a clear process of tracking every employee's working hours.
Software like Timely, Toggl and Everhour can be looked at to track working hours.
Being able to track the hours an employee puts in every day truly helps a manager understand the time certain tasks will take. Thereby, a manager will be able to provide better guidance for work in the future, if they'd like to.
5. Create schedules and trackers
Your policy should include the details and format of filling the attendance sheet. The process for the approval of it. The work from home policy should try to make the process as transparent as possible. Schedule and trackers will also motivate employees to be more productive and help them stay on track with work.
6. Efficient Work From Home Channels
Now that your employees will be working from homes you should revisit your communication channels to make sure there are no hiccups in communications. Make sure there are no discrepancies and overlap of communication channels. Make sure your employee knows which channel should be used for what.
For example, Zoom calls for meetings, Gmail for emails, Basecamp for project management and antiviruses for security.
It is important for these channels to be brushed up and laid out to avoid wastage of time and resources. Building a list of channels to be used will help make communication an easier task.
7.  Maintain the Company Culture
Though in-person touch-ups will not be possible, there still are several ways to build the company culture with remotely working employees. A mail or presentation from the leadership along with a weekly company update has the same effect. Create a dress code and celebrate birthdays and victories through video calls.
Start a buddy ship or a mentor program for your employees to help them learn and build a firm connection to the employees of the team.
Keep reminding your employees of your work culture and principles. Build your policies around the visions of the company while giving employees the benefits that an office employee would get.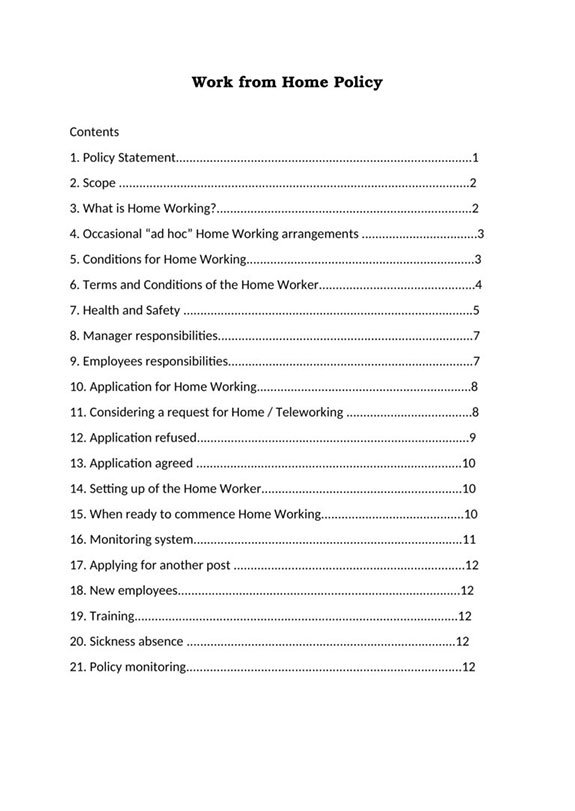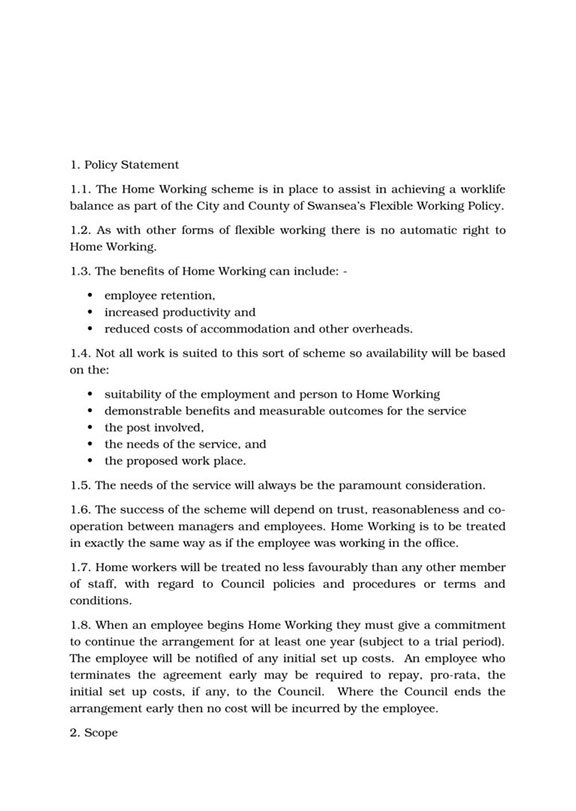 Download Work From Home Policy in India Sample – PDF –  StartupHR Toolkit
Benefits of Work From Home Policy For Company and Employee?
1. Costs Cutting
Office spaces are extremely expensive today. With co-working spaces charging per employee having employees working from their homes will cut some costs for you. Even if your business doesn't run in a coworking space, several other costs add to office space e.g. Electricity, restroom equipment, late-night travel perks, gaming perks, management of the premise, etc.
You may think working from home will reduce employee productivity however, that cannot be farther away from the truth. In a survey by Airtasker, a gig economy platform, 1004 full-time employees were asked about their daily productivity. It was found that office workers stay idle for about 37 minutes a day excluding lunch break and regular breaks. This went down to 27 minutes of being unproductive for work from home employees.
This happens majorly due to the lack of distractions and the ability for the employee to control their environment.
They even save on money and time travelling. Without having to bustle with crowds to reach the office gives them extra energy and time to be more productive.
3. Hire the Best, Globally
Working from home truly means from anywhere. With no logistical issues, you can reach out to the best in the field. You can hire experts at a decent cost that truly suits your company better.
4. A Healthier Relationship With the Company
When a company allows an employee to work from home that shows that the company trusts the employee. This sign of trust truly builds a connection between the employee with the company. With no travelling, the employee can repurpose that time into learning and taking care of their mental and emotional needs. This helps the employee be more productive and stay with the company for longer.
5. Helps Employees Focus Better
Offices today are extremely noisy. Some people find it more and more difficult to focus on work in such environments. When an employee works from the comfort of their homes they have the luxury of controlling their environment to fit them. Since the environment does not pose as a distraction, it helps employees be more productive.
6. Lesser Absenteeism
Does your company suffer from an employee absenteeism problem? A major benefit of working from home is the flexibility for employees to manage their personal commitments along with work. For example, new mothers can keep an eye on their children without having to take leave from work. It allows employees to take care of their household without having to take a full day's leave from work.
7. Longer Working Hours
Travelling is a long and tedious daily task for most employees. When your employee is required to travel from distant places to a specific location, it can be a taxing task. It also requires employees to be aware of the time that they must leave the office to be able to use public transport to reach homes in time.
However, working from home gives them the ability to save all that time, money and acts as a morale booster. Therefore, employees wouldn't mind working for long hours while working from home.
8. No Or A Lot Less Office Space
Renting an office space is an expensive affair. Furthermore, the maintenance, electricity and extra costs truly go up the roof. Allowing employees to work from home allows the company to save money on infrastructure and helps better utilise those funds. This works well for small to medium-sized enterprises.
Reasons For an Employee To Work From Home
To truly integrate working from as a part of your office culture you must allow employees to work from home for various reasons. This will help the employees know that you trust them and will push them to act with responsibility.
Few possible reasons an employee may request to work from home include:
If the employee is feeling under the weather or has just recovered from an illness, working from home can help them heal faster. Furthermore, they can do this without requiring to take an entire day's leave.
2. Parenting Responsibilities
Young parents often have several responsibilities to manage. If their child falls sick or they have to be picked up from an event, parents often take a full day leave. Allowing employees to work from home gives them the option to manage their time better and complete the tasks required.
3. Work-Life Balance
Employees often struggle to maintain their personal lives due to the long hours required from their jobs. Therefore, working from home gives employees the opportunity to be around their loved ones while working.
4. Unsafe weather conditions
When the weather is unsafe for employees to step out in, they can work from their homes. This reduces leave days and allows the company to be fully functional.
5. Appointments During The Workday
Workdays require the entire day of attendance, however, certain appointments like a doctor's appointment, a dentist appointment, etc cannot be made for later in the day. Therefore, most employees are forced to take an entire day off when they must go for such appointments. However, working from home gives them the flexibility to simply work post or before the appointment.
6. Other Reasons Discussed With And Approved by Supervisors
If there are personal reasons that require an employee to work from home, they too can be discussed with the supervisors. Working from home can help solve those problems too.
 In conclusion, building a work from home policy in india can be complicated, you must think of possible scenarios and build processes around that.
 If you'd like to make your policy creation process simpler check out our StartupHR Kit which includes not just policy creation but other 1300+ ready to use documents for you.
Join a Community of 1,00,000+ HR Professionals