How to Design a Leave Policy?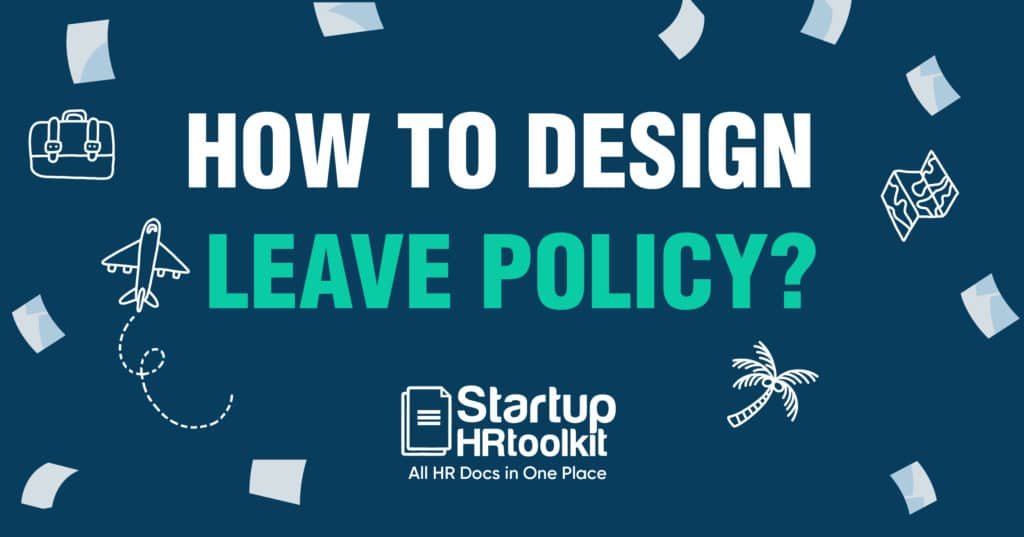 Leave from work garners renewed interest in work, enhances productivity and engages better focus. While leave is compensated or paid, companies need to design leave policy that is employee-supportive. In the larger interest of the company, the leave component should not be compromised as we are dealing with people and people drive businesses and goals. Start-ups can begin fresh, but established companies with proper policies in place should reinstate their policies from time-to-time.
With globalisation, companies have become very flexible in working options; work from home, sabbaticals, paternity leave, and roll-ons. In such a scenario, if your company leave policy out-dated, you need to revamp to retain your employees.
A structured leave policy has a lot of weight to carry. We are not talking about just policies, but people and their sentiments. Leaves are availed for reasons that are not just personal or pleasure but sometimes impelling. Structured processes mean simpler executions; hence a leave policy that is not intimidating but employee-friendly is a need of every organisation. As an HR person or a business entity, you need to consider some elements in designing a leave policy that brings a happy working culture and satisfied employees.
Leave Policy should not be so tight-fisted that it suffocates your employees. Leave policy should be able to attract better human resources, generate a conducive working environment and foster growth.
PTO or Paid Time Off as the world calls it is an articulate task considering various influencing factors.
Culture
Company culture has a large stake in the ways its policies and processes are built. Cultural boundaries define company goals, ethnicity, location and how open or conservative a business is. Family businesses operate in a closed periphery, leading to conservative practices. Whereas, a corporate or an MNC will have very open and inviting policies.
Size of company – Start-ups v/s Medium & Large organisations
Your company could be a start-up, an SME or an MNC; the need for a good Leave Policy is never out of fashion. Leave policies for start-ups can be flexible considering the ownership every person takes as well as the drive to launch the company in the next plane. SME's would require a little push holding both conservative and flexible approach. MNC's need to have structured and location-specific leave policies. What works best in the United States does not appropriately work better in India. Culture is an important dimension that sensitises and demarcates one company's policy from the other.
Start-ups can have unlimited paid leaves, no sick or casual leave but, MNC's should have a highly structured system and approach considering the huge workforce.
Nature of Business
Leave policies should be designed considering the nature of business. The finer elements of a policy can be worked around aspects like fulltime, part-time, onsite & offshore employees.
For onsite employees like Software Developers, the client's leave policies should be synced with the parent company's leave policy for ease.
A business that demand working on weekends like retail chains and operations, cannot have fixed leaves and can enjoy the benefit of leave on weekdays. Operations demand to work in double or extended shifts and subsequent compensatory leave or compensation should be incorporated.
Global Perspectives
Globalisation has positively benefited us. We have MNC's representing different parent countries and cultures. Our Indian home ground has a host of festivities and holidays to name, however, companies need to incorporate the local holidays your parent company celebrates. Christmas is the finest example here. Your US counterparts or clients have one festival that's absolute holiday time. The European or Southeast Asian counterparts have their share of local holidays too. Important local holidays should be incorporated in the yearly leaves.
Eligibility
Eligibility means a check on –
·        If an employee is eligible for leaves during probation?
·        Can an employee take leave while serving notice period?
·        How many annual leaves is an employee entitled to?
·        What is the quantum of leaves that can be opted at one time and can it be approved?
leaves have been bifurcated under different segments using Leave Policy.
Statutory Leaves
State or country norms have identified some leaves as statutory in the interest of the working community. While government and private organisations differ in these mandatory leave policies, the former or latter both have their own benefits. Leaves classified as Maternity, Paternity&Bereavement are governed by labour laws and mandatory. These are paid leaves and should be a mandate in every company's leave policies.
·        Maternity Leave in India under the Maternity Leave Act is paid leave for a period of 26 weeks.
·        Nuclear families have introduced the concept of Paternity Leave. Facebook was the trendsetter to offer paternity leave to new fathers. Zomato followed suit and has introduced 26 weeks leave for new fathers. Indian labour laws offer a leave of 15 days at the time of childbirth or within 6 months of the child-birth.
·        Bereavement leave- Being empathic can lead companies in building relations and sustaining employees. Bereavement leave can opt on the death of a close family member. There are no concrete policies around it but a minimum of 1-7 days of paid leave is allotted. On humanity grounds, bereavement leave is a personal touch to attach value to your employees and their life. Though death is an unwelcome event, companies should act towards incorporating bereavement leave in their leave policies.
Sabbaticals
A refresher is sometimes the only option to bring in the best or retain the best. A sabbatical is long leaves opted for travel, further studies or just a break. Sabbaticals are un-paid leaves as they stretch over a long period. The only assurance is retaining your job. Sabbaticals are not a very warm prospect yet in the Indian landscape considering the nascent leave policies around it.
Roll-over Leaves
Every company has a leave policy that stretches across the year. E.g. Calendar year (1stJan – 31st Dec) or financial year (1st Apr – 31st Mar). In the event when certain fixed leaves are not consumed within the year, they lapse. Some companies have a provision of reimbursing on the leaves, while most companies consider them lapsed. A roll-over of leaves can be a flexible provision where leaves can be continued in the succeeding year. An employee has gathered unused leaves implies the employee has been working more than the standards set. Companies can show a little sensitivity towards acknowledging this gesture by introducing this roll-over leave option.
Weekly/monthly leave and not consolidated
Certain leaves are structured to be taken week-wise or month-wise to ease management.
Leave Management
While leave policy formulation is important, leave management is another serious aspect. There are sentiments linked to leaves as there are salaries linked to leaves. Major discrepancies arise when employees are wrongly compensated.
A full-proof leave policy supported by an efficient process means your major worries are solved.  It's garnering the right practices to a service that is linked to results like salary, performance, and appraisals. Smaller organisations can pull-off the process manually, but the larger organisation needs robust policies and leave management system.
Requisition Form
A requisition form that classifies the purpose of leave and other details.
Leave Approvals
The requisition should be approved by management or authority. In smaller organisations, there can be one authority, but larger organisations should have a couple of leave approval authorities in the hierarchy. This ensures smooth functioning and easy and quick approvals.
Tracking system
Having a leave management system in place ensures the data is in place and can be retrieved to document and analysis for succeeding processes like salaries and appraisals.
Guidelines
Let the leave guidelines be bold and visible and not something that is not ambiguous.
All this said and done, the finer elements of the leave policy should be put in black & white and should be circulated amongst employees for a clear and aligned process.
Industry Norms
Industry norms should be taken into account while devising Leave policies. A fair amount of research on the policies and practices make you come up with a flexible product. This, in turn, ensures better employee retention. If you have surveyed the market and devised a good leave policy, you will certainly retain employees as they check with their industry counterparts. A good leave policy also shows a company cares about its employees and will certainly attract good talent.
Let culture, location, diversity ethnicity, define the finer aspects of a company's leave policy. What is important is every organisation should be able to maintain transparency of what's been laid down as a policy and what is actually practiced. HR or the management authorities should be knowing of the demand for leave as this is the integral right of an employee. Approving and availing the leave understanding the need of the employee is a human factor primarily. Leaves foster productivity. Employees reset themselves after leaves and come to work refreshed. Make your organisation a place that is employee-conscious and your goals will surely be met.
Lastly, it's the HR or the management authority that brings a personal touch to the entire event. How important are your employees to you and your organisation should be the first question you should ask while designing a Leave Policy.