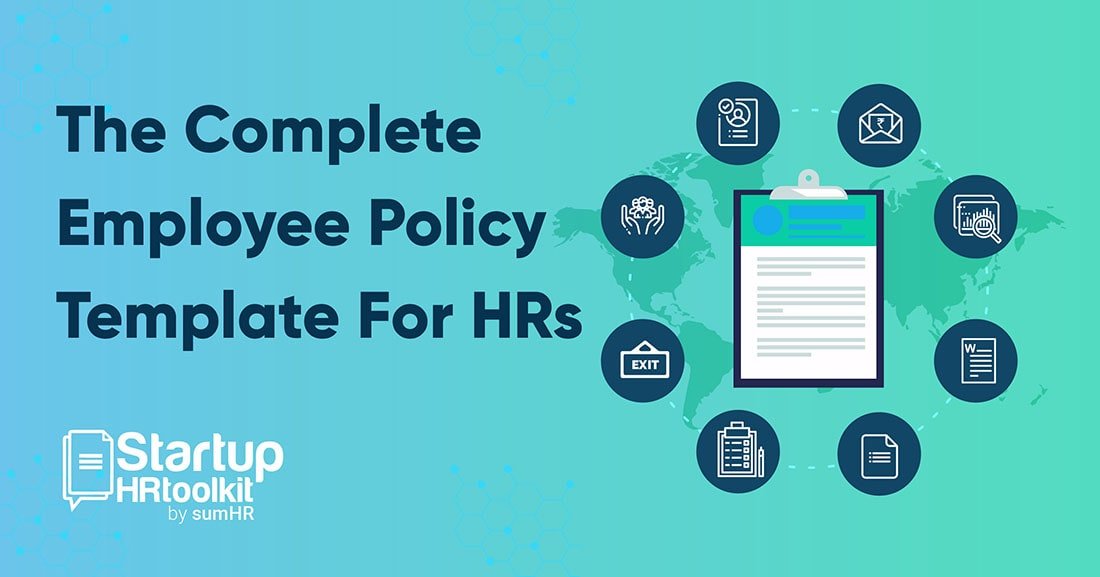 Employee Policy handbook: 40 Policies Must Have in Your Manuals
Employees are your best asset. Manage the asset well, and you achieve a measurable increase in productivity and efficiency. The StartupHR Toolkit's versatile Employee Policy Handbook is just perfect. If you are a startup, you may find it rather expensive to have a full-fledged HR software in place, but you can use StartupHR Toolkit for a low starting price and have a complete system in place. It provides the perfect 'personnel' touch to your HR operations and empowers employees.
Why use Employee Policy Handbook?
Imagine what would happen in the absence of standardized policies? The behaviour of the employees will vary. When it is time to apply for leave or travel allowance each employee may do it in their own way, and each case will take up time. There will be no uniformity, and there could be room for favouritism and discrimination. If you define a policy, it means everyone has to adhere to it. The formats and applicable rules are all clearly stated.
Customization
Not all enterprises have the same set of policies for employees. StartupHR Toolkit offers an Employee Policy Handbook for most processes in a standardized format. These can be used as guidelines to customize the template of your company policies.
Download Free Employee Handbook
The Ultimate Guide to Accelerate Your HR Productivity
StartupHR Toolkit Following Employee Policy Handbook
1. Code of Conduct
2. Attendance Policy
3. Leave Policy
4. Employee Exit Interview Policy
5. Grievance Handling
6. Anti Sexual Harassment Policy
7. Employee Policy Handbook
8. Anti Sexual Harassment Policy
9. Anti Discrimination Policy
10. Attendance and Punctuality Guidelines
11. Code of Conduct
12. Company Cyber Security Template
13. Corporate Social Responsibility
14. Dress Code Policy
15. Drug Testing Policy
16. Employee Cell Phone Policy
17. Employee Code of Conduct
18. Employee Confidentiality Policy
19. Employee Conflict Interest Policy
20. Employee Exit Interview Policy
21. Employee Internet Usage Policy
22. Employee Referral Program Policy
23. Employee Relationship Workplace Policy
24. Employee Remote Work Policy
25. Employee Smoking Policy
26. Employee Social Media Policy
27. Employee Temporary Layoff Policy
28. Equal Opportunity Employer Policy
29. Internal Job Posting Policy
30. Leave Policy
31. Occupational Workplace Health Safety Policy
32. Open Door Company Policy
33. Pets at Workplace Company Policy
34. Probation and Confirmation Policy
35. Company Sick Leave Policy
36. Separation Policy
37. Sexual Harassment of Women Act
38. The Whistleblower Policy
39. Violence at Workplace Policy
40. Work Home Policy
1. Code conduct
The Employee Code of Conduct is a vital part of an Employee Policy Handbook. Code of Conduct consists of the rules and regulations of an organization. The employees are expected to abide by the rules and regulations mentioned in the Code of Conduct of an organization.
2. Attendance Policy
An attendance policy consists of rules designed to improve productivity employees, reduce absenteeism, and set clear and consistent expectations for employees.
3. Leave Policy
Leave or time off policies determine the type and amount of time that can be taken off work, how much time will be reported and paid, and the process for requesting leaves. Without a proper leave policy, it would be almost impossible for employers to effectively manage their workforce and appropriately allocate resources.
4. Sexual Harassment Policy
Preventing sexual harassment at the workplace is the responsibility of the employer. Employers are required by law to take steps to prevent and deal with sexual harassment in the first place.
5. Employee Policy Handbook
An Employee Policy Handbook is a book given to the employees by the employer. The employee usually contains information about company culture, policies, and procedures.
The Employee Policy Handbook Template is generally used to provide employment and job-related information that an employee needs to know.
6. Discrimination Policy
The Anti-discrimination policy is designed to protect employees from workplace harassment and discrimination.  It is an important policy to avoid discrimination on the basis of age, race, gender or religious views. The policy is used to promote workplace equality and a positive work environment for employees.
7. Attendance Policy
The employee attendance policy outlines employers' expectations about the employees' coming to work. Employee attendance policy also promotes punctuality when coming to work as it helps maintain efficiency in the workplace.
8. Company Cybersecurity Template
The cybersecurity policy outlines essential guidelines and provisions for preserving the security of business data and technology.
Relying on technology to collect, store and manage information, makes the business more vulnerable to security breaches. Hacker attacks, individual errors, and system malfunctions could cause great damage and may jeopardize the company's reputation.
9. Corporate Social Responsibility
Corporate Social Responsibility refers to a businesses' responsibility towards the environment. A company's existence is not lonely. It is a part of the bigger system of people, values, others, and nature. Corporate social responsibility is to give something back to society.
10. Dress Code Policy
A dress code policy outlines how an employer expects the employees to dress at work. While representing the company in front of clients and visitors, the employees should note that their appearance matters. The appearance of an employee may create a positive or negative impression that reflects the company and its culture.
11. Drug Testing Policy
The drug testing policy explains how and when an employer may test job candidates or employees for substance use. Employers may want to ensure that employees are sober, focused, and alert when performing their duties.
12. Employee Cell Phone Policy
Employee cell phone policy explains the guidelines for the use of cell phones at work.
We realize that cell phones (especially smartphones) have become an integral part of daily life. Cell phones may be a great asset if used correctly. But, they may also cause problems when used carelessly or excessively.
13. Employee Confidentiality Policy
The company's confidentiality policy is specifically designed to explain how an employer expects the employees to deal with confidential information. Employees will sometimes receive and handle confidential information about clients, partners, and the company. Employers want to make sure that this information is well-protected.
14. Employee Conflict Interest Policy
Conflict of Interest Policy refers to any case where an employee's personal interest may contradict the interest of the employer. This may have heavy implications on the employee's decision making and their commitment to the company. Employee Conflict Interest Policy outlines the rules regarding conflict of interest. The policy also clarifies the responsibilities of employees and the company in resolving any such discrepancies where a conflict of interest may arise.
15. Employee Exit interview Policy
An employee exit interview policy presents an employer's method of gathering information about the company from employees who are about to resign or have resigned. When an employee leaves the organization, the employee may feel more comfortable about sharing experiences they had while working for the company.
16. Employee Internet Usage Policy
The employee internet usage policy sets out the guidelines for using the company's internet connection and network. An employer would want to avoid inappropriate use of the internet that creates risks for the company's reputation.
17. Employee Referral Program Policy
Employee Referral Program Policy outlines the important aspects of the referral procedures. Employers place great importance on referrals these days. Because the employer trusts the employees to know what's best for the company.
18. Employee Relationship Workplace Policy
The employee relationship policy acts as a guideline for the employees. They're expected to follow them when they're romantically involved with a fellow employee.
Employers don't want to place restrictions on employees dating each other, as everyone should be free to choose their partners. But, employers would want to make sure that such relationships won't cause problems in the organization.
19. Employee Remote Work Policy
The Employee remote work policy sets out guidelines for employees who work from a place other than the office. The employers make ensure that both employees and the company will benefit from such type of arrangement.
20. Employee Smoking Policy
Our employee smoking policy outlines our rules regarding smoking in the office space. This policy is designed with the aim to protect the non-smokers without denying smokers of their right to smoke.
21. Employee Social Media Policy
The employee social media policy provides guidelines for using social media. Regardless of employees handling a business account or use their own personal account, they have to be professional in their use of social media. The social media policy provides a piece of advice to avoid any issues that might arise by the negligent use of social media in the workplace.
22. Employee Temporary Layoff Policy
Temporary Layoff policy lays down the rules for suspending employees on a temporary basis until further notice. For this reason, layoffs are always seen as a last resort during hard times.
23. Equal Opportunity Employee Policy Template
The Equal Opportunity Employer Policy mirrors an employers responsibility towards ensuring equality, this policy is designed to treat everyone with respect and promote diversity in the workplace.
24. Internal Job Posting Policy
Internal job posting policy plots the guidelines for posting and communicating vacancies internally before doing so externally. Employers are committed to investing in the employees and helping them grow within the company whenever possible.
25. Leave Policy
The employees are the most valuable asset of the employers. Improper leave management can lead to unapproved absence of employees from duty, lower productivity, missing important targets and so on. Issues can be resolved with a proper Leave Policy for the employees.
 26. Workplace Health & Safty Policy
Workplace Health and Safety Policy helps the employer preserve the best possible work conditions for their employees. The employer is committed to follow legal standards and create a clean & healthy workplace.
The Workplace Health Safety Policy helps employers preserve the best possible work conditions for their employees.
27. Open Door Company Policy
The open-door policy in business reflects the employer's commitment to maintaining transparent communication between managers and team members.
28. Pets Workplace Company Policy
The pets at workplace policy provide the rules for having pets in the company's workplace.
Some employers believe that pets can make the workplace friendlier and happier. Pets are playful and can have a positive influence on the work.
However, employers need to make sure that pests won't disrupt the operations, damage properties or cause medical issues to other employees.
29. Probation & Confirmation Policy
Probation and Confirmation policy defines the employment probationary period and explains its meaning for the employee and the employer. The policy is designed to allow everyone involved to decide if the hiring of a particular employee was the right decision and whether the employee continues to be associated as the employee of the company.
30. Company Sick Leave Policy
The company's sick leave policy provides guidelines to the company's provisions for employees who are sick and are not able to work.
31. Separation Policy
The Separation policy refers to the event when an employee is no longer a part of the company's workforce. The separation policy is beneficial for all the respective parties. The employers want to make sure that the separation process is as clear as possible to avoid misunderstandings between the employee and the employer.
32. Sexual Harassment of Woman Act
The Sexual Harassment of Women at Workplace (Prevention, Prohibition and Redressal) Act, 2013 is a legislative act in India that seeks to protect women from sexual harassment at their place of work.
33. The Whistleblower Policy
A whistleblower is an employee of the company who reports an activity that is considered to be illegal or fraudulent to one or more parties specified in the Policy. A whistleblower is not responsible for investigating the activity. The appropriate management officials are the people responsible for the same.
34. Violence at Workplace Policy
Violence at workplace policy aims to make the employees aware of what the employer considers as workplace violence and ask them to report early signs or threats of the same. Employers want to provide their employees with a safe workplace. A workplace is where mutual respect is a given. Employers require everyone to be professional and ethical at work.
35. Work From Home Policy
The work from home policy is designed to make sure that working from home is beneficial to both the employee as well as the employer.
Join a Community of 75,000+ HR Professionals