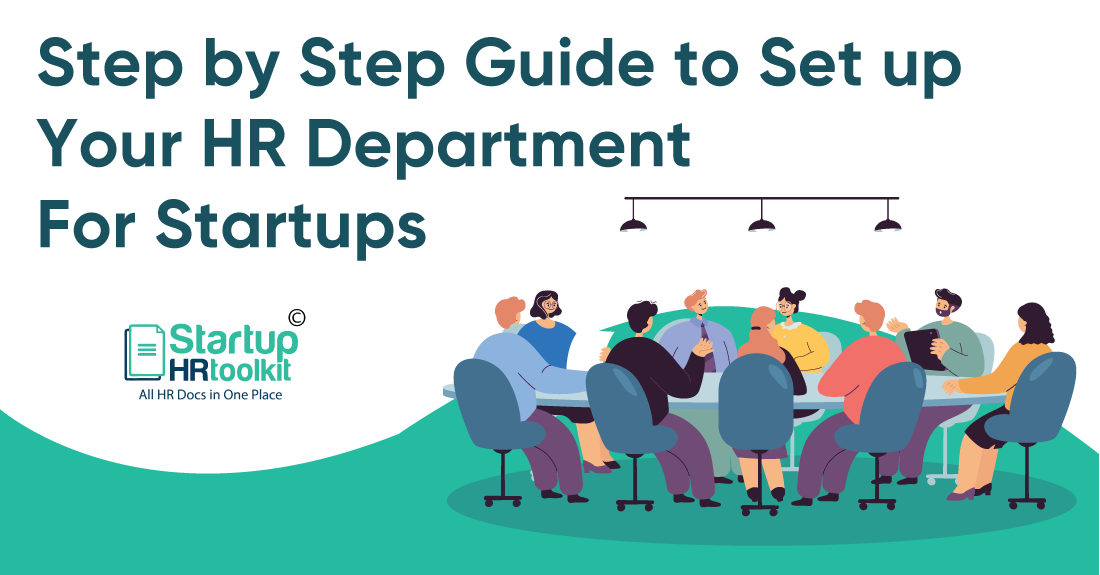 How to Set up an HR Department for Startup: Step by Step Guide
As an employee, Where do you go? When you are facing a problem at the workplace? Everyone has the same answer, that is, the HR department.
Every organization, whether big or small, a startup or a multinational company, must have a structured HR department to function correctly.
The basic foundation of every successful business is employees, and to handle and manage various aspects related to employees and the company, you know How to Set up an HR Department.
What is an HR department?
An HR department is not just a department but a valuable asset. It is responsible for various operations like managing, coordinating, planning, and supervising new employees. In addition, they manage employee work-life balance, recruiting, hiring, onboarding, support employee mental health, training and development, and handle the fnf process.
They act as a mediator between the staff and management. The HR department's role is more important than ever in today's work environment. The goal of the human resources department is to guarantee that all staff members are properly supervised, fairly compensated, and trained.
Why do we need an HR department?
The department manages the payroll system, employee attendance, rewards, leave deduction, and employee benefits. With the proper implementation of workplace policies and procedures, HR can help to secure the work environment. Also, They refine and hire to retire employees from all over. We all know if a company has better employees, it will directly benefit the company's growth and increase the profit margin of the company.
With compliant HR management, workplace policies keep up with required protective steps and implementation and give solutions for complications between employees, avoiding trouble for the establishment and its employees.
In addition, they refine and hire employees from all over. We all know if a company has better employees, it will directly benefit the company's growth and increase the profit margin of the company.
An HR department ensures that all company initiatives comply with applicable laws and regulations. Therefore, the HR department is a necessity for making your company function properly.
You need to set up some HR Policies
Can you envision living in a place without government rules or regulations against anything? No right? Because the place will turn upside down. The same applies to the workplace. If you do not have These HR policies, how do you expect an organization to work in its proper form?
Before creating an HR checklist, it is essential to establish HR policies. HR policies outline the rules and regulations to be followed by employees at the workplace. HR policies help companies to take care of all their short and long-term needs.
Every policy covers an issue crucial to the organization's operations or mission. A policy states the steps to be taken and how the policy is to be implemented throughout.
Human resources policies govern the relationship between an employee and an employer. It explains the responsibilities, rights, and what is expected of an employee when working within the organization.
HR Policies You Must Have
These HR policies are some of the essential policies that every organization needs to comply with to maintain the smooth functioning of an organization.
1. Employment Contracts
2. Leave Policy
3. Employee Code of Conduct
4. Gratuity Policy
5. Maternity Leave
6. POSH Policy (Sexual Harassment)
7. Employee Termination Policy
8. Grievance Policy
9. Hiring Policy
10. Hybrid working policy
Policies and procedures from the HR department are essential for companies because they provide uniformity, justice, management, and stability and are reasonable. In addition, they ensure that employees are aware of their obligations and the objectives of the business and that they are required to adhere to them.
But what if you can create HR policies within minutes? As an HR, it can be tiring and exhausting to create HR documents and policies from the start. StartupHR Toolkit is here to save the day, and we provide ready-to-use HR documents for all your HR processes.
Follow Startup Checklist to Set Up the HR Department
Whether you work with a multinational company or a startup doesn't matter. The first step always starts from the basics. Next, there needs to be clarity about how many employees an HR department requires. There isn't a fixed number sometimes, there is only one HR professional, and as the company grows, the department also increases.
Make sure to focus on these three areas before creating your HR department. They should be compliant in these three areas.
If you have no strategy, then your HR professional will create an HR department from the ground. However, if you are looking towards setting up an HR department, you can follow our step-by-step HR department startup checklist to achieve your departmental goals and what suits your company the best.
1. HR Budget
The HR budget is a vital element of an organization. It gives them the budget to handle employee-related programs and initiatives. It is all about the funds an HR spends to operate all HR procedures efficiently. For example, budgeting for human resources involves money for wages, employee recruiting, training and development, planning, employee engagement, employee benefits, and welfare, among other things.
2. Set Organization Goals and Objectives
HRs are the entire organization's supervisors and overlook details related to employee benefits hiring, procedures, workplace safety, and more. They are solely responsible for the development and productivity of the organization. HR's accountable for creating achievable goals and objectives for the company to increase proficiency and profits.
3. HR policies and Documents
To start any organization or department, the essential thing you require is HR policies and documents. But we have got you covered; StartupHR Toolkit provides ready-to-use documents like the employee handbook, termination policy, probation policy, POSH policy, and more.
4. Training and Development
The main objective of HR is to create valuable training and development programs for new employees. Therefore, one of the most important parts of setting up an HR department checklist is ensuring workers advance their knowledge and give them helpful feedback for development. This may be achieved by maintaining personnel records and setting up a framework for performance reviews.
5. Statutory Compliance
Statutory compliance is the framework within which the company must carry out all its responsibilities. HR is responsible for implementing and overlooking the rules and regulations of the company and if they are being followed.
6. KRA and KPI
An HR department requires essential tools to set up a startup checklist. KRA and KPI are tools that measure an employee's performance for a particular period and & determine if it is consistent with the organization's strategic objective.
7. Assign Roles and Responsibilities
An HR department provides employees with roles and responsibilities according to their job description. The department is responsible for checking if the employee is completing and working on their job properly or not. The department is also in charge of accommodating employees when they have a problem.
8. Recruiting and Onboarding
It doesn't matter if you are a beginner startup. You need to know how to make hiring decisions. Some essential steps regarding this process are to establish who is your target candidates, where to post job ads, and what is the onboarding process.
This is some paperwork you need to check for. Again, it doesn't matter if you are hiring your 1st employee or the 50th.
1. Employee verification
2. Payroll information
3. Offer letter
4. Employee agreements like intellectual property, non-compete
5. Equity paperwork
With a structured onboarding process, your employees will successfully achieve and align toward company goals and objectives. Ensure that you are ready for your employees, and take this opportunity to tell them what is expected of them and the company's purpose. Be accessible to your employees for the first few months, create an open communication portal, and make them comfortable.
9. Health & Safety
One of the prime motives is to create a secure work environment that meets all the local and federal guidelines. As an organization, you must ensure that you follow the OSH Act that is the Occupational Safety and Health Act.
Safety includes:
1. Putting together an emergency action plan.
2. Figuring out emergency exits and routes.
3. Offering first aid and medical supplies.
4. Maintaining a secure workplace.
Creating an HR department checklist that includes a secure environment that is compliant with all medical necessities, is safe and healthy will protect you from all legal obligations against the company. Laws and obligations change frequently, and you need a dedicated HR department to keep track of such things.
10. Benefits and Compensations
If you have created a hiring process, you want to keep employees for a long time. You may get there by ensuring that your business creates competitive pay and benefits. Before creating these programs, you must decide on your pay structure, vacation and sick leave procedures, retirement benefits, and the technology you'll employ to manage payroll.
Conclusion
The HR department is a vital part of any organization. It is a driving force for any company's operations. Structuring an HR department from the ground up is a difficult task. But after our startup checklist, you can refer to our guide and effortlessly follow the steps to create an effective HR department.
Join a Community of 1,00,000+ HR Professionals
Recent Post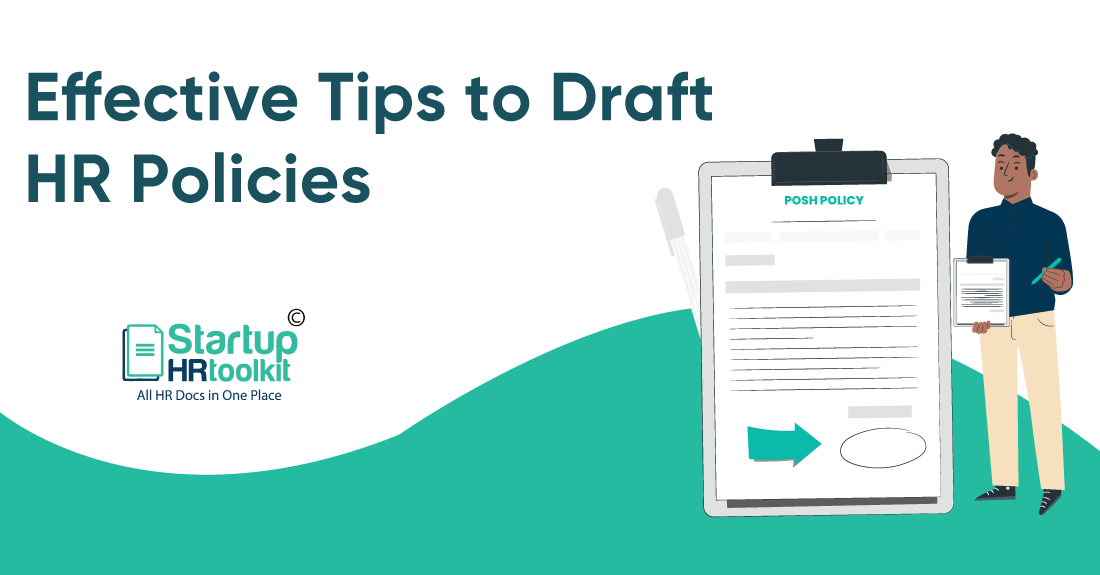 HR policies are rules and regulations an organization determines to promote a safe and productive work environment. It provides guidelines for employees, managers, and the organization. They cover everything from workplace safety to hiring and retiring procedures. HR policies clarify expectations, protect employee rights, and treat everyone fairly.
An employee handbook is a legal document defining your company's culture, mission, values, rules, policies, and expectations. Employers create an employee handbook & hand it over to their employees to let them understand their rights and responsibilities while working with the company. In addition, it summarizes employee benefits, compensation, and legal aspects of their employment.