How to Successfully Implement HR Policies in 5 Easy Steps
Implementing HR policies without proper documentation is like sailing without a compass. Just as a compass helps sailors navigate rough waters, well-documented HR policies provide clear guidance and direction to the organization and its employees, ensuring smooth and compliant operations. With proper policies, HR decisions may be consistent, leading to clarity, disputes, and potential legal issues.
Implementing effective HR policies can help you make hiring decisions easier, reduce risks, and create a positive work environment for your employees.
In this blog post, we'll explore the steps and how to implement HR policies to help you find and keep top talent, avoid legal issues, and promote a respectful and inclusive workplace.
First, let's understand
Why are HR Policies Important?
HR policies are one of the core parts of any organization, and they bind the whole organization and employees together. They provide a framework for managing employee behavior, expectations, and interactions. They ensure equitable treatment of all employees, regardless of their position, status, or background. HR policies help to establish a positive work culture that promotes respect, transparency, and accountability.
Here are some crucial reasons why HR policies are essential.
#Legal compliance
HR policies ensure that the organization complies with all pertinent laws and regulations, reducing the risk of legal liability.
#Clarity
It provides clear expectations for employee behavior, helping to prevent misunderstandings and conflicts.
#Accountability
Outlines consequences for violating company rules, ensuring employees are held accountable for their actions.
#Employee Satisfaction
HR policies that promote work-life balance, benefits, and a positive workplace culture can lead to higher employee satisfaction and retention.
#Recruitment and Retention
HR policies that offer competitive salaries, benefits, and growth opportunities can help attract and retain top talent.
#Risk Management
HR policies can help mitigate workplace health and safety risks, data protection, and other potential organizational threats.
Why Should You Implement HR Policies?
Let's say you're running a small startup with 25 – 50 employees and need formal HR policies. Your employees come and go as they please, there need to be clear guidelines for handling conflicts or performance issues, and there needs to be a consistent process for hiring or onboarding new employees.
As your company grows, these issues become more and more problematic. Employees may feel unsure about what is expected of them or their rights, and there may be inconsistency in how various situations are handled. It can lead to dissatisfaction, misunderstandings, and even legal problems.
Here are 5 concise points on why you should implement HR policies in your organization:
1. Compliance: HR policies ensure compliance with employment laws and regulations, reducing legal risks.
2. Expectations: HR policies establish clear expectations and standards of behavior for employees.
3. Consistency: HR policies support consistent decision-making in employee management.
4. Employee Rights: HR policies outline employee rights and responsibility, promoting satisfaction and loyalty.
5. Organizational Culture: HR policies shape and enhance the organizational culture, fostering a positive work environment.
Complete Guide on How to Implement HR Policies
1. You need to visit the StartupHR Toolkit website and sign up for the Gold membership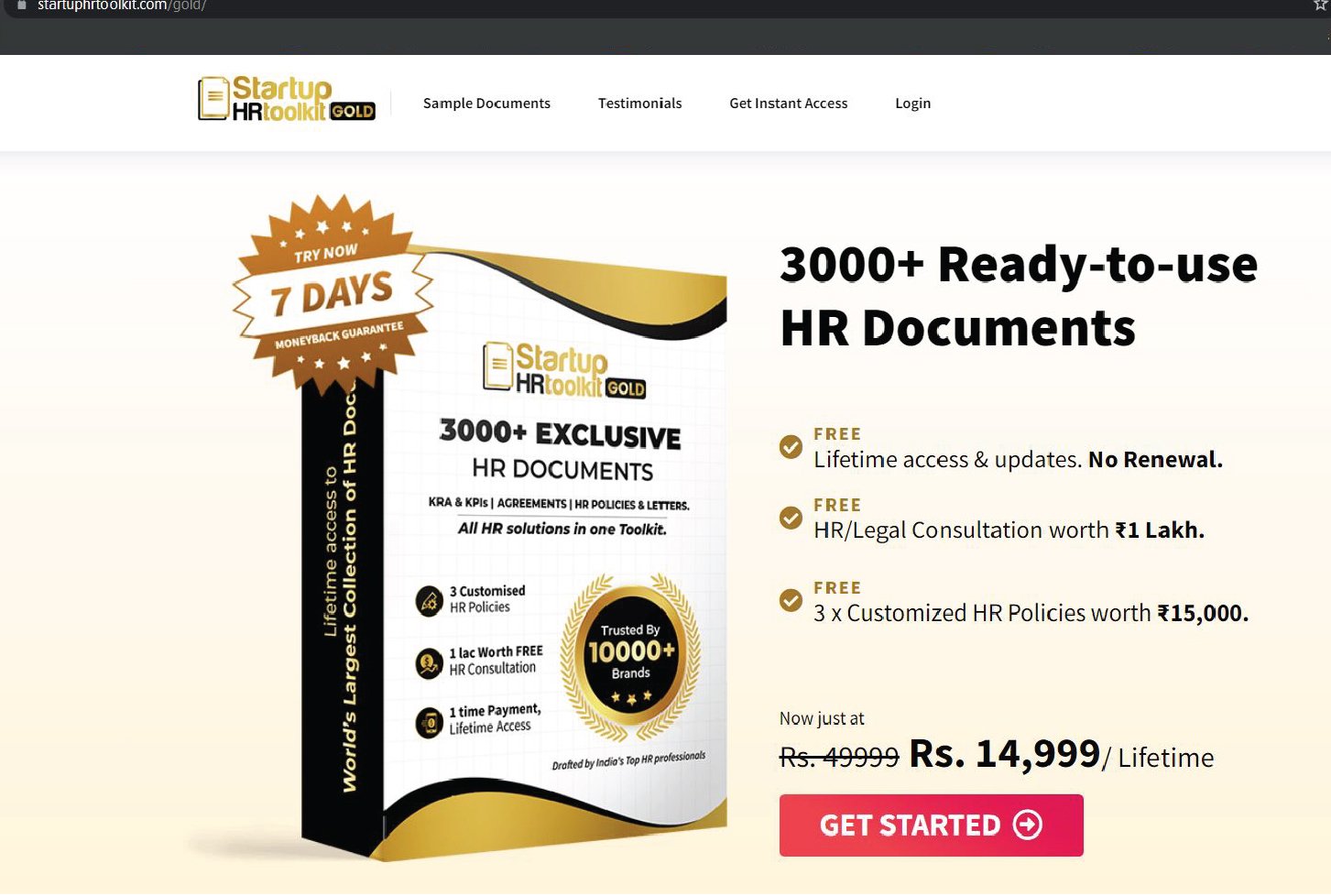 2. Once you have signed up for the StartupHR Toolkit Gold membership, you will need to purchase it to gain access to the dashboard.
3. Toolkit Gold dashboard contains a variety of HR resources, such as templates, policies, and documents. You can download these.
4. You can browse through these categories to find the specific document you need to download.
5. Once you have downloaded the document from the StartupHR Toolkit Gold dashboard, you can edit it as per your needs
7 Must-Have HR Policies for Your Organization
Effective HR policies are crucial for organizations to ensure compliance, establish expectations, and promote a positive work environment.
Here are 7 must-have HR policies that every organization should consider implementing.
1. Workplace Safety and Health Policy
This policy outlines the organization's commitment to providing a safe and healthy work environment for employees, including procedures for reporting and addressing workplace hazards. Without this policy, employees may be exposed to unsafe working conditions, leading to accidents, injuries, and potential legal liabilities for the organization.
2. Code of Conduct Policy
This policy sets expectations for employee behavior, including guidelines on professional conduct, ethical standards, and the use of company resources. Suppose you don't have a clear code of conduct policy. In that case, employees may engage in unethical behavior, misuse company resources, or violate professional standards, resulting in reputational damage, employee conflicts, and legal issues.
3. Anti-Discrimination and Harassment Policy
This policy prohibits discrimination and harassment based on protected characteristics, such as gender, race, religion, or sexual orientation. Imagine not having an anti-discrimination and harassment policy in your organization. In that case, the employees may be subjected to discriminatory or harassing behavior, leading to a toxic work environment, low morale, and potential legal liabilities for the organization.
4. Leave Policy
This policy outlines the types of leaves available to employees, such as sick leave, vacation leave, and family/medical leave. If you have a clear leave policy, employees may be able to understand their entitlements, leading to consistent leave management, employee grievances, and potential non-compliance with labor laws.
5. Performance Management Policy
This policy establishes performance expectations, evaluation criteria, and employee feedback processes. For example, without a performance management policy, employees may be unclear about their performance expectations, leading to inconsistent evaluations, lack of feedback, and potential demotivation or disengagement.
6. Employee Benefits Policy
This policy outlines the benefits offered to employees, such as health insurance, retirement plans, and other perks. The reason behind implementing a clear employee benefits policy is that employees may have a limited understanding of their benefits, leading to confusion, incorrect utilization, and potential dissatisfaction or turnover.
7. Data Privacy and Confidentiality Policy
This policy sets guidelines for protecting sensitive and confidential information, including employee data and company proprietary information. Without a data privacy and confidentiality policy, employees may not be aware of their responsibilities in handling sensitive information, leading to data breaches, privacy violations, and potential legal and reputational risks for the organization.
Risks of Downloading HR Documents from Google
As tempting as it may be to download HR documents and policies from Google for convenience, it's essential to be cautious. Using generic templates found on Google may not be the best approach for your organization.
Here are five reasons to refrain from downloading HR documents and policies from Google.
1. Not legally compliant
HR policies and documents found on Google may not legally comply with local, state, or government laws. Using outdated or inaccurate templates can expose your organization to legal risks and liabilities.
2. Outdated Information
HR policies and documents available on Google are not updated regularly. Employment laws and regulations are subject to change, and using outdated information may result in non-compliance and legal issues.
3. Limited Scope
Generic HR documents and policies from Google do not cover your organization's needs and requirements. Each organization is unique and may have its own policies, procedures, and guidelines that generic templates cannot adequately address.
4. Lack of Customization
HR documents and policies should be designed to your organization's needs and culture. Using templates from Google lacks the customization required to reflect your organization's values, vision, and mission and may not effectively address your HR needs.
5. Lack of Structure
HR documents and policies downloaded from Google need a proper structure or format. However, they may need to be more comprehensive and organized in an easily understandable way for employees and may not align with best practices in HR documentation.
FAQ's
1. Where to find legally compliant HR documents and policies?
Finding legally compliant HR documents and policies is easier than finding a parking spot in Mumbai. Here is a solution, you can easily find legally compliant HR Documents and policies from StartupHR Toolkit, which provides more than 3000+ HR documents and policies at affordable prices.
2. How to train managers to enforce HR policies effectively?
To train managers in enforcing HR policies effectively, provide comprehensive policy training, clarify roles, foster communication, use real-life scenarios, monitor performance, and provide recognition.
3. How to update HR policies to reflect changes in laws and regulations?
To update HR policies for changes in laws and regulations, regularly review and assess policies for compliance, consult with legal experts, communicate changes to relevant stakeholders, provide training, and maintain updated policy documentation.
4. How to effectively communicate HR policies to employees?
Effectively communicate HR policies to employees, use clear and concise language, provide written and visual materials, conduct training sessions, and use multiple communication channels. But most importantly, you need to implement legally compliant HR Documents and policies in your organization.
Now you will know how to implement HR policies effectively in your organization. Following the steps outlined earlier, including identifying the needed policies, conducting research, and drafting comprehensive policies. StartupHR Toolkit can help you streamline the process of implementing HR policies and customize them to meet your organization's unique needs.