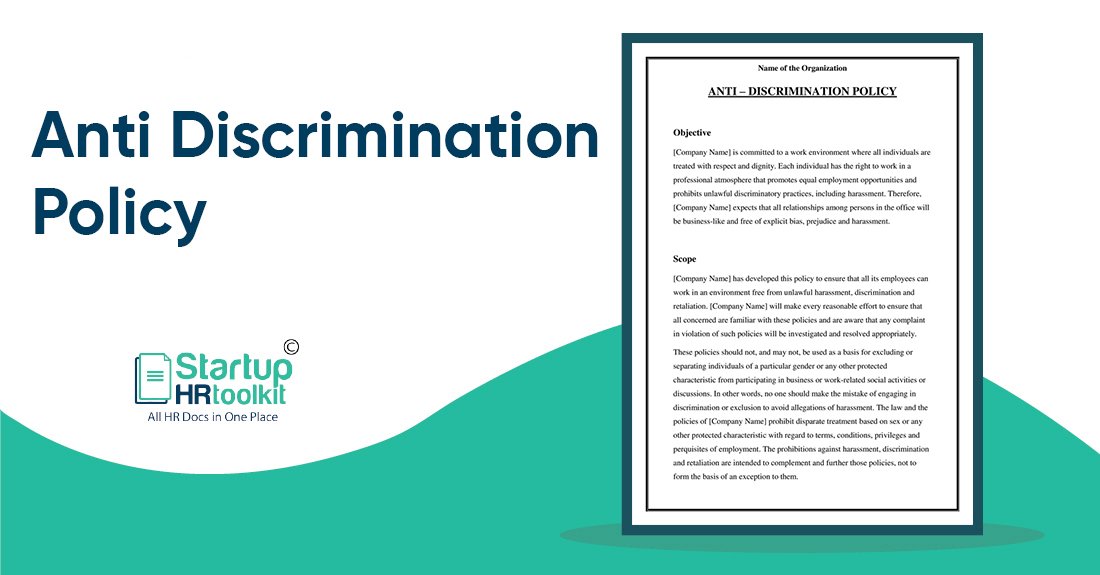 Non Discrimination Policy Workplace
Non Discrimination Policy
What is Non-Discrimination?
Non discrimination refers to treating all individuals fairly and equally, regardless of their gender, race, caste, ethnicity, sexual orientation, or any other characteristic. The principle promotes equal rights, opportunities, and treatment for everyone without prejudice or bias. Non discrimination Policy ensures social justice and human rights by prohibiting unjust or unfair treatment based on inherent qualities or identities. We foster a diverse and inclusive society by embracing non-discrimination, promoting equality and respect for all.
StartupHR Toolkit helps to create an Anti discrimination policy easily; you just have to mention your details, and that's it. In addition, you get 3000+ HR documents that include legally compliant updated HR policies.
Why Need to Implement Non Discrimination Policy?
1. Promoting Equality
Non discrimination policy establishes a framework that ensures equal treatment and opportunities for all individuals, regardless of their background or characteristics. They promote the fundamental principle of equality, helping to bridge societal gaps and reduce disparities.
2. Protecting Human Rights
Non-discrimination policies serve as a safeguard for protecting human rights. They prohibit discriminatory practices, creating a safe and inclusive environment where individuals can exercise their rights and freedoms without fear of prejudice or bias.
3. Fostering Inclusion and Diversity
By implementing a non-discrimination policy, organizations and societies actively promote diversity and inclusion. Embracing different perspectives, experiences, and identities leads to a richer and more dynamic environment, fostering innovation, creativity, and understanding.
4. Ensuring Fairness and Social Justice
This policy contributes to a fair and just society by preventing discrimination based on factors such as race, gender, religion, or sexual orientation. Aim to eliminate bias and ensure that individuals are treated fairly based on their merit and abilities rather than irrelevant personal characteristics.
5. Enhancing Organizational Reputation
Organizations that implement and uphold policy demonstrate their commitment to fairness, equality, and social responsibility. This can enhance their reputation and attractiveness to diverse talent, customers, and stakeholders who value inclusivity and ethical practices.
6. Compliance with Legal and Ethical Standards
Anti discrimination policy align with legal requirements and international conventions that promote equality and prohibit discrimination. Implementing these policies ensures compliance with legal obligations and upholds ethical standards in treating individuals with dignity and respect.
How do you Prevent Non-Discrimination
When it comes to addressing and remedying non-discrimination issues, there are several key approaches and remedies that can be implemented.
#Awareness and Education
Promote awareness and educate individuals about the importance of Anti discrimination, its impact on society, and the rights and responsibilities associated with it. This can be done through workshops, training programs, and educational campaigns to foster understanding, empathy, and respect.
#Clear Policies and Procedures
Establish a clear and comprehensive Anti Discrimination Policy within organizations, institutions, and legal frameworks. These policies should outline the prohibited forms of discrimination, provide guidelines for reporting incidents, and establish procedures for investigating and addressing complaints.
#Civil Remedies
Victims of discrimination can seek civil remedies through legal action. This may involve filing a complaint or lawsuit seeking compensation for damages, including emotional distress, loss of income, or other harm suffered as a result of the discrimination.
#Fines
In some cases, individuals or organizations found guilty of discrimination may be required to pay fines imposed by the relevant authorities. The punishment amount can vary depending on the severity and frequency of the discriminatory behavior.
#Criminal Penalties
In certain circumstances, particularly when discrimination is deemed to be severe or involves hate crimes, criminal charges may be brought against the individuals responsible. Criminal penalties can include fines, probation, community service, or even custody, depending on the severity of the offense and the applicable laws.
How to Write Anti Discrimination Policy
#Introduction
Briefly explain the purpose and importance of the policy
#Objective
Clearly state the overall objective of the policy, such as promoting equality, preventing discrimination, and fostering an inclusive environment.
#Scope
Define the scope of the policy, specifying the individuals or groups it applies to (e.g., employees, customers, clients, students).
Clarify the settings in which the policy is applicable (e.g., workplace, educational institution, services provided).
#Equal Employment Opportunity
Emphasize the commitment to equal employment opportunity and fair treatment of all employees.
Prohibit discrimination based on protected characteristics (e.g., race, gender, religion, age, disability) in all aspects of employment, including recruitment, hiring, promotion, training, and termination.
#Complaint Procedure
Outline the procedure for reporting incidents of discrimination or harassment.
Provide clear direction on how to file a complaint, including designated individuals or departments to contact.
Ensure confidentiality and protection against retaliation for individuals who report discrimination.
#Investigation and Resolution
Describe the process for investigating complaints, including the roles and responsibilities of investigators.
Emphasize impartiality, fairness, and thoroughness in the investigation process.
Outline the potential outcomes of investigations and the actions that may be taken to handle and resolve complaints.
#Redressal
Specify the remedies or redress available to individuals who have experienced discrimination, such as corrective actions, disciplinary measures, or compensation.
Highlight the commitment to taking appropriate steps to prevent future occurrences of discrimination.
Fill In The Blanks
Customize Template
Save, Print, Done.
Download StartupHR Toolkit Instantly & Access Largest Collection HR Documents.
The only Toolkit to solve all your HR problems in minutes.
Legally compliant and govt approved HR documents.
24×7 customer support over chat & calls (during daytime).
Up to date documents as per the latest Statutory Law.
3 FREE customized documents with
Join a Community of 1,00,000+ HR Professionals
Recent Post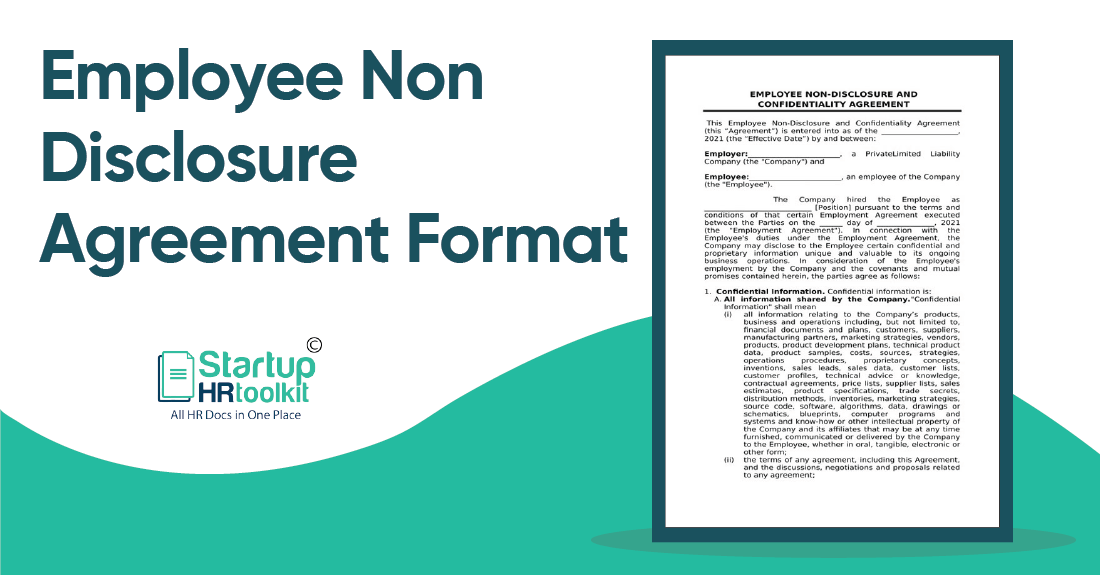 All organizations have specific information and processes that they want to keep confidential as they are too sensitive. To ensure that they remain a secret, employers make their employees sign an Employee Non Disclosure Agreement format.
An employee recognition letter is a means for employers to thank and appreciate employees for all their hard work and dedication. This letter aims to show and appreciate them for putting in a lot of effort in their job. It motivates them to work harder and achieve all their targets.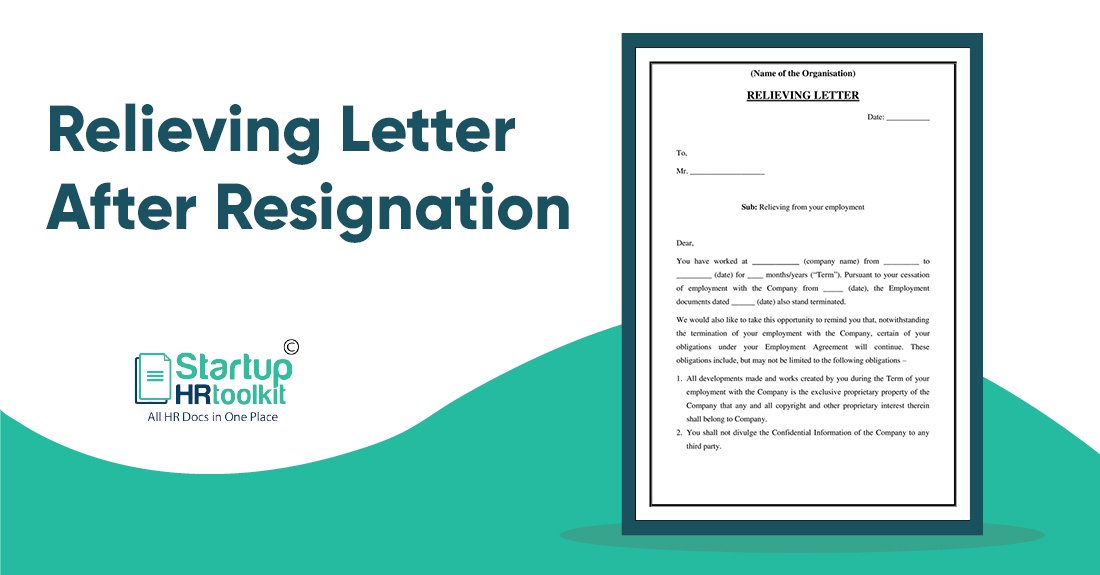 A relieving letter sample is provided to employees when they leave an organization. The Letter states that the employee left their previous employment after a full and final settlement and now join a new organization.