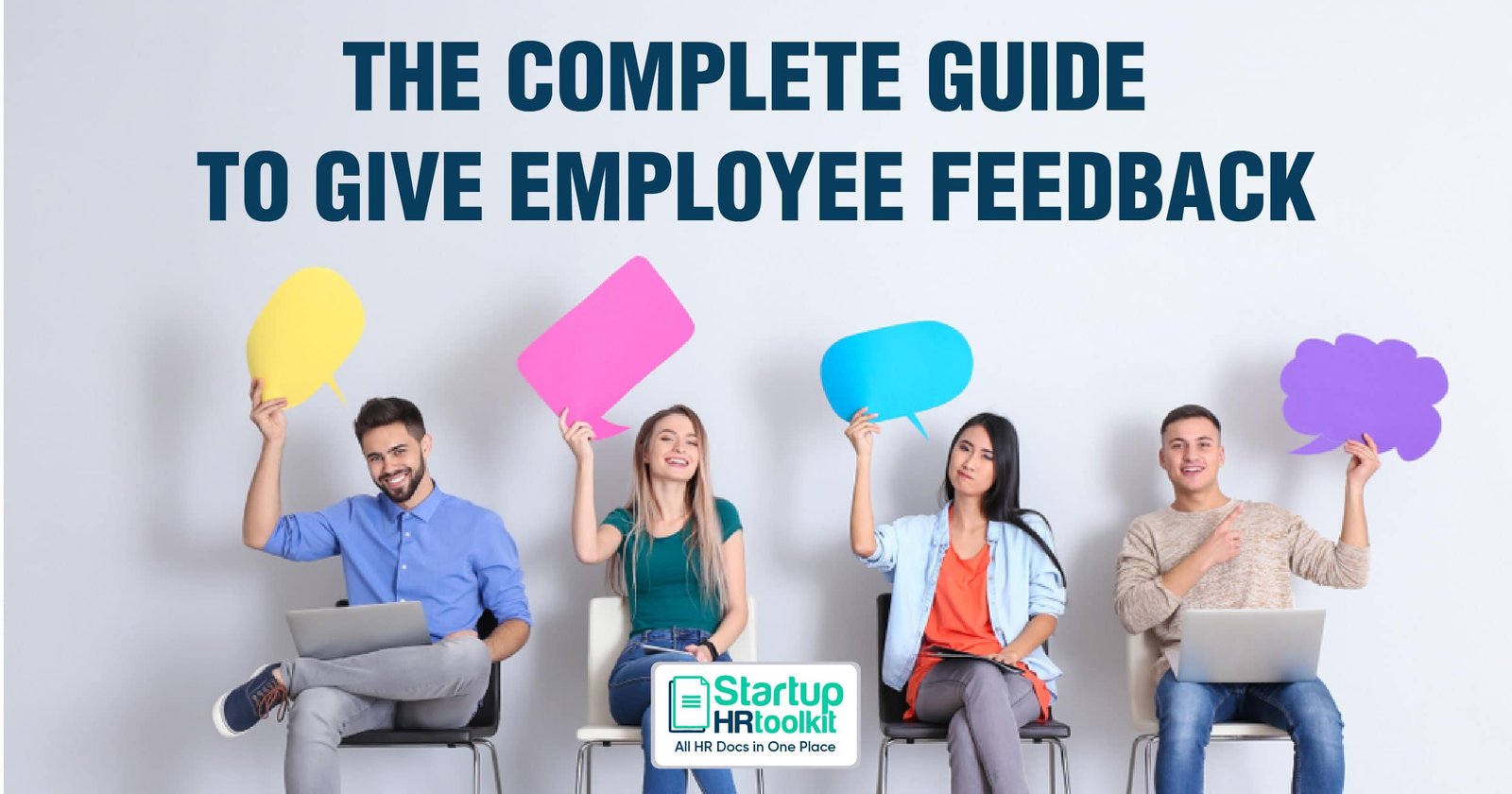 Employee feedback is a delicate process. Feedback needs to be regulated subtly but yet conveying what's required. Not everyone is receptive to feedback and especially when considering Senior Management.
Feedback, positive or negative, can be challenging to deliver; however, with the art of conversation and some more elegant modulations in the process, feedback can be delivered constructively.
Criticism, like rain, should be gentle enough to nourish a man's growth without destroying his roots.
Frank A.Clark
When is Employee Feedback given?
Feedback is a part of the growing process. Organizations that are tuned to deliver to their goals are in a continuous process of evaluation and improvement. Such a process demands a sound feedback system in place. The significant factors that influence feedback are –
1) Behavioral Feedback
Employees in an organization need to act in a specific frame of behavioral dynamics. Behavioral conduct in an office is defined and which every employee needs to abide by.
Behavioral feedback could be on misconduct against company norms, sexual harassment, rude behavior, a dispute within the organization, un-solicited behavior with clients or colleagues.
2) Performance Outcome
The outcome can link to goals, team performance & individual performance. Performance hampered due to personal issues, shortage of resources, non-cooperation from colleagues or seniors, bad time-management, irresponsibility towards goals, etc.
3) Quarterly/ Yearly Appraisals
Every organization has a system of conducting quarterly/ yearly appraisals. We should give performance-related feedback at the end of the evaluation process.
This employee feedback relate to an individual as well as team performances.
Who gives the employee feedback?
Individual authorities are designated as the rightful authorities for passing on employee feedback. These authorities are –
Team Leaders
Managers
Human Resource Authority
Line Heads
Senior Management
Employee feedback is usually given by a person who is above the employee in the hierarchy or the reporting authority. Any peer or manager laterally cannot provide feedback to an employee. Conduct is something that is for the effective and rightful functioning of departments. If we don't streamline the feedback system, it could lead to chaos and ambiguity. In some cases, it might also trigger in-house disputes.
HR usually decides on the course of action and reporting authority. A feedback system should be very confidential, as well as properly executed. Some feedback needs to be given within a specific timeframe before the matter escalates, and therefore should be acted in a time-bound manner.
When constant feedback does not bring the expected outcome, it calls for disciplinary action. The HR Department can further handle this.
The usual employee feedback is around the following concern points –
If a project delivered is not as per schedule.
If an employee makes a mistake
Behavioral mistakes
Not able to abide by company policies.
Faltering in abiding by KRA's
Decline in performance
Not able to deliver as a team leader
Personal issues are reflecting on work.
How To Give Employee Feedback
We can give feedback as frequently as any day. Every day is a good day to offer feedback if you think the input can bring the necessary change. Employee feedback, however, should be timed to be delivered appropriately. Usually, Performance reviews quarterly or annually are considered the ideal time to offer feedback. However, if you think to provide input, arbitrarily can help, go ahead as it can influence behavior or performance.
1. Give specific employee feedback.
Employee feedback should be specific to the problem/issue at hand, and the input should never stretch beyond the problem which we are dealing with at the moment. Old matters should not be rooted up in the light of the current issue. Always deal with one point at a time and be specific. It help's to ensure a faster decision and solution.
2. Why wait for quarterly reviews?
We should complete our impending tasks and necessary feedback on time. Some critical issues need to be dealt with yesterday. It is therefore essential not to wait for the approaching quarterly appraisal, but schedule a meeting and give the necessary feedback. Companies run expenses, and with prompt execution, you are saving time, cost, and efforts every single day.
3. Always give feedback on a 1-2-1 basis.
Some people are not tuned to take positive feedback in public. However, negative feedback can be done under covers. A 1-2-1 meeting scheduled with the purpose of offering feedback is the best approach.
4. Focus on individual efforts over team performance.
When discussing employee feedback, both factors contribute- Team as well as individual performance. However, team feedback should be done in a team review meeting. On a 1-2-1 basis, one should only discuss personal feedbacks. What challenges the employee is facing should be explored.
5. Focus on behavior and not the individual
Certain events and elements trigger responses. One should not judge an individual; however, we can question him about his behavior. After having a thorough background check on the individual; see if the behavior is repetitive. If yes, then feedback is followed by the necessary action.
6. Feedback is an opinion, don't generalize it.
The feedback given by the authority is a sole opinion. Therefore shouldn't be generalized as "we have observed," "we want you to perform so" unless it is an appraisal driven feedback.
7. A balanced feedback
Balanced feedback is a two-way process of sharing feedback as well as knowing what the employee has to contribute to the story.
8. Time your feedback
We should schedule the Employee feedback Process. There should be an element of empathy, therefore consider the employee's state of mind before delivering the input. The employee might not be in a proper mindset at certain times, which can hamper their productivity further.
9. Be prepared with your feedback
Feedback should be structured, and we can present by supporting facts and details. Arbitrary feedback can be misleading as it might create confusion or miscommunication.
10. Make employee actionable to the feedback
Once the feedback is shared, the authority sharing the input must work on a plan of action for improvement. This action is suggested by the administration as well as additional commitments, that need to be taken from the employee, and all this should be documented for further review. A seal of faith and a constant nurturing is what ensures the process of fruitful feedback.
11. Feedback as a regular process
An employee Feedback system should be so well ingrained in the culture of any organization that just quarterly or yearly reviews should not be the only means. Feedback should be constructive and aiming towards the progress of the employee first and then the more considerable interest of the organization.
12. Be open to suggestions and inputs from employees.
Authorities should be open to feedback from employees as a part of the employee feedback process, and this ensures a fair approach to a situation.
Also read: HR Toolkit – Helping Startups & HR Manager Save Money & Time
13. Be neutral and not biased or critical
While sharing the employee feedback, the authority should not be biased or too critical, considering any past issues or hearsay. A neutral approach ensures the message is communicated correctly as well as accepted.
14. Gratitude is the key
After communicating feedback, ensure you are expressing gratitude towards the employee for their contributions to the organization.
Employee feedback need not be a one-way process. For effecting change, the employee perspective also needs to be considered –
15. Be open to issues/ arguments
While dealing with Employee Feedback, it is essential to be open to issues, and debates employees might have to put. Constructively making use of these arguments is an effort towards a winning process.
16. Listen, it's necessary
Listen Patiently, to the visible loopholes if you have missed any. Listening to itself solves a lot of issues, and then feedback is just a process to reiterate subtly what needs to be done. Often through the hierarchies, employees cannot communicate for the challenge of transparency. Skipping levels in feedback and giving feedback is again unwelcome. HR's are usually the last sought option for sharing feedback.
17. Ask, what can be done?
Post giving feedback, it is essential to ask specific employee questions such as-
Tell me if I can do something to help improve?
Do you wish to share your views on the feedback?
How to learn from employee feedback
Feedback given by employees should be documented and used as input for future processes. Specific feedback is crucial and can come from unexpected people, something that is important and can be incorporated.
The employee feedback process helps to identify the development areas regularly. A feedback system as a strategy can help generate data for employee engagement activities and measurement. Employees should be attuned to the idea of receiving on-going positive or developmental feedback and not wait for performance appraisals to act. On-going feedback can create an atmosphere of accepting and learning this, to a large extent, will help fill the gap between expectations and output.
Always keep a check on the feedback shared and the actionable listed. Go back and review if the actions are achieved or need further improvement. In the scenario of the input not taken in the spirit of a positive outcome, the employee should be met again and questioned. Individual issues are critical and demand strict action. After all, the process is about dealing with people and handled sensitively.
Sign Up Here to Get The Latest Update And Special
Offer On 1000+ HR Documents