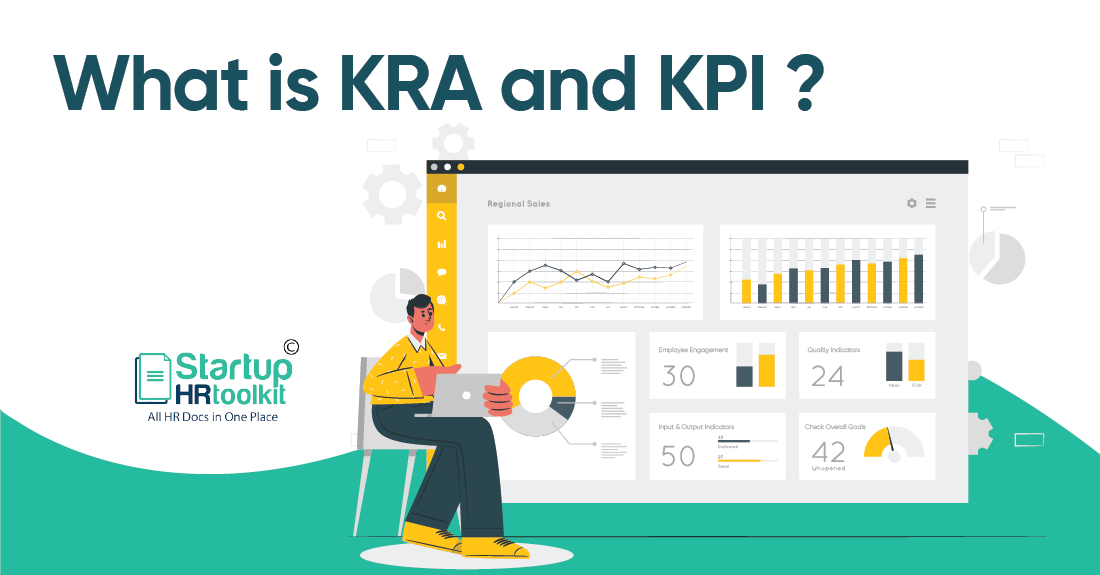 What is KRA and KPI? Difference, Importance, Types, Examples
What is KRA and KPI?
KRA means "Key Result Area," and KPI is also known as "Key Performance Indicator." Both terms are used in management and business to measure the performance and success of individuals, teams, and organizations.
KRA refers to specific areas of business performance that are considered critical to the organization's overall success. Senior management often identifies these areas and is closely aligned with the company's mission, goals, and objectives.
On the other hand, KPI refers to specific, measurable, and time-bound metrics used to track progress toward the KRAs. For example, if a KRA is to "improve customer satisfaction," a KPI to measure this might be the "percentage of customers who rate their experience as 'very satisfied.'"
KRA and KPI are closely related and often used together to help companies track their performance and make necessary improvements.
What is the Difference Between KRA and KPI?
KPIs are generally quantitative, and it makes them effortlessly measurable. A KPI evaluates the overall performance of a specific product, service, and the business in the market. On the other hand, KRAs are generally subjective & qualitative. Also, it acts as a powerful tool by specifying those areas of the company that might prove beneficial in obtaining high value for your company.
KPIs are financial or non-financial metrics. It measures the overall development & advancement at multiple levels of the company. Such an inspection lets you know how efficiently the business is operating. KRAs are a significant part of any business and need profitable results to accomplish the company's objectives. Such business areas demand nothing but outstanding performance.
KPI assists in measuring the growth of a particular unit, product, or service. KRA assists in understanding the scope and expandability of an individual unit product or a service.
KPIs are nothing but a metric that measures by what level the business objectives are attained. KRAs are a strategic component needing massive hard work to accomplish the intended goals.
What is the Importance of KPI?
Effective KPIs are essential for ensuring that one can achieve all the business goals. KPIs are critical to an organization as it helps to monitor the overall health of the company. It acts as a company's report card & scorecard, areas where the firm is lacking, and the scope of improvement. KPIs allow you to stay on track by making the necessary adjustments. Once you know your targets, you need the leading indicators to track your progress & save you from the anxiety of missing out on them. The leading indicator KPIs are of two types – measurable & influenceable. The future is uncertain, but with its support, you see through the future outcomes & your contribution to it.
KPIs also help in solving problems and handling opportunities. For example, KPIs are important in validating the business model once you think of launching it on a bigger platform. Here, it helps you with questions like implementation time, several interested clients, the money needed for launching new products, etc. In addition, the same KPIs every quarter assists in judging the repeated patterns with time. This pattern supports the daily analysis by letting you know what the worst-performing quarter was. Once you know this, the system is updated, and new company employee training strategies are efficiently planned to boost the performance.
Designing effective KPIs helps to assess actual and intended progress. It also keeps track of revenue, gross margin, etc. Usually, the targets are predefined before the starting of every quarter & year. Then, these KPIs are extremely useful in assessing individuals' progress weekly or monthly or partly, or yearly. It tells us if the employees are following the right track in accomplishing their short-term & long-term goals or whether they are going off-track by working against the business strategy.
What is the Importance of KRA?
Every firm has several employees & departments. Now, the question arises: how do we work together as one team having the same shared goal of the company? To work in alignment with the company's vision, you need to have an objectively definite set of KRAs or critical areas. KRAs help to facilitate the link between the activities and goals of a company. Key Result Areas or KRAs play a crucial role in the company as it specifies and calculates the significant development areas. These areas are in synchronization with the goals & strategic vision of the corporation. Here is why KRAs are essential for the company.
Performance motivator: KRAs act as a supporting hand by motivating you to perform all of your responsibilities with utmost honesty. It furthermore helps your firm become capable of achieving milestones.
Performance tracking: KRAs are immensely helpful in tracking the company's progress comprising the individual departments and the employees.
Distributes work equally: KRAs enable the departments to have clarity and a better understanding of their departmental work responsibilities & fairly distribute the work.
Boosting revenue is the ultimate goal of every company. Therefore, the sales & marketing departments must define these KRAs for long-term success. From the salesperson's perspective, a KRA example could be selling a specific number of units, increasing the number of vendors or partners, or bringing a particular revenue to the organization. Let's take another example of KRA, i.e., a Training employee. For a trainee, the KRAs would enhance his skills through appropriate quality training to complete the job efficiently. In this KRA, the feedback ideally goes above 80%. If a junior-level employee fails by any means, then his result is indicated in the KRA of the senior-level employee.
Types of KPI (Key Performance Indicators)
Multiple types of KRI exist today & all of them are nothing but objectives. The KPI that will create more productive outcomes is usually applied to your current firm's strategy. Here are the three most important types of KPIs.
1. Employee Engagement
Employee engagement increases the loyalty of the staff members towards the company. It leads to promoting the high-class performance of employees. Moreover, it also has a critical impact on key operational objectives & supports them through enhanced productivity. Inculcating the effective KPIs here allows the performance standards and provides the protocols for a good and constructive examination.
The following KPIs measure the employee engagement:
1. Absenteeism
2. Turnover Rate
3. Active employee social ambassadors
4. Active intranet users
5. Employee satisfaction index (ESI)
6. Hires post-trial period
7. Employee NPS
8. Employee Suggestion Box Outcomes
9. Internal Promotion Rate
10. Online company ratings
2. Quality Indicators
The quality of qualitative indicators is those types of KPI that you can not illustrate or use in the form of numbers. Due to this reason, it's often considered complex to evaluate the responses. To get these measurements, you need to be proactive in your organization. You can do so by taking a tour of the company, casually chatting with employees, client & employee feedback, responses, comments, open-ended questions, asking about customers' experiences & their personal stories, etc. Also, it's true that when people get a platform to express themselves fully, their thoughts, feelings & experiences, and a clear business picture become more prominent.
3. Input & Output Indicators
Input indicators directly point toward the total quantity of resources required & absorbed by a business project while producing an outcome. It's instrumental in tracking the resource efficiency for projects of varied sizes. Examples of input indicators are the equipment needed, cash on hand, and workforce timings. Output Indicators tell you about the outcome of the processing activity. It is one of the widely used KPI types & lets you know about the process or any business activity's failure or success. Examples of the output indicators are newly obtained clients, revenues, profits, or losses.
Examples of KPI (Key Performance Indicators)
KPIs generally vary from company to company, but some of the common examples across all businesses are stated below:
1. HR KPI
Salary Competitiveness Ratio: It's one of the best ways to gather data related to industry average pay or competitor pay. Furthermore, it provides a prompt solution of what ideal income should be by comparing these pays to the salary provided by your company.
Revenue Per Employee: It tells you about the overall productivity of the employees of a particular company. It does so by measuring the total sales generated by an employee. Moreover, it assesses how effectively human resources are use in the organization.
Human Capital ROI: Once the capital has been invested, it helps estimate the returns through benefits & pay. Employee satisfaction index: It lets you know the satisfaction level of employees belonging to a particular firm or department.
2. Client Servicing KPI
1. First Response Time
2. Customer Satisfaction Score (CSAT)
3. Servqual
4. Net Promoter Score (NPS)
5. Employee engagement
6. Customer retention rate
3. Admin KPI
Support KPIs: It tells us the depth to which the administrative professionals support managers' goals. Its KPIs are enhancing the manager's productivity through meetings, arrangement of daily sessions, employee & company information accessibility, documenting everyday accomplishments, etc.
Meeting KPIs: It ensures that conference rooms are well equipped with necessary resources. It helps collect agenda elements, organize meeting debriefs & restricting meeting disputes.
Coordination KPIs: It enables you to assess the coordination & organization skills like scheduling meetings, executive calendars, etc., of an administrative professional. Its KPIs include assembling travel itineraries, scheduling appointments, and collecting & conveying essential information for joiners.
Collaboration KPIs: Also, it shows how well administrators can work with the individual employees & teams. It helps create a constructive work environment, voluntarily collaborating, supporting new employees, & projecting networking skills.
Motivation KPIs: It measures the self-motivation level of administrative staff. Also, It supports efficient alternatives for performing duties, providing measurable goals and learning opportunities, & recommending creative remedies for assisting their senior leaders.
Communication KPIs: It tells about the communication frequency as well as efficacy between the administrative professionals. Its KPIs include drafting emails, phone discussion notes, proofreading and editing, and daily report preparation.
4. Accounting & Finance KPI
Operating margin: It assesses the firm's operational efficiency & cost-related strategies. Do the ratio of operating income & net sales to measure it.
EV/EBITDA: It is the ratio of the enterprise value to the revenue generated before taxes, amortization, interest, and depreciation. It's a very effective way that helps you to evaluate your organization's debt value.
Return on Assets or Return on Equity: ROE helps calculate the total money being raised through the shareholders. While making the ROE comparisons, ensure it's done within the same sector. ROA, on the other hand, is one of the promising indicators that calculates the overall profits of the organization about its assets.
Return on Investment: It allows you to calculate the business performance by finding the net profit ratio to the net worth. ROI is a parameter often contemplated as the frequently accepted probability ratio.
Debt-Equity ratio: The Debt-Equity ratio assesses the percentage of shareholders' equity to that of the debt for financing the company's assets. Another name for it is risk ratio.
5. IT KPI
Dollars spent per month: It evaluates the total amount paid monthly for accomplishing the existing project.
Mean time between failures: It traces the time elapsed between the two failed incidents.
ROI & project overhead ratio
Average Initial Response Time: The service department takes the average time to acknowledge a report filed by a person.
Estimate to complete: The additional time or amount required to finish a project.
6. Sales and Marketing KPI
1. Sales Qualified Leads (SQLs)
2. New Inbound Leads
3. Return on Ad Spend (ROAS)
4. New Qualified Opportunities
5. Total Pipeline Value
6. Sales Volume by Location
7. Social Program ROI (Through Platform)
8. Average Order Value
9. Marketing Qualified Leads (MQLs)
10. Conversion Rates (Meant for Particular Objectives)

How to Prepare KPI for Your Business?
Drastic market changes have taught us an important lesson. The lesson is to track & review our business consistently. And also, it ensures that the individual employee performances align with the preset goals of an organization to stay competitive ahead. Here are the three crucial ways that help to prepare KPI for your business:
1. Check Overall Goals
Clarifying your short-term and long-term goals solves half of the problem. First, get well versed in what all you aim to accomplish? Different businesses have different plans at several points in time. You may desire to increase customer satisfaction and more significant market share, gain good word of mouth, lead generation, as well as acquire new clients., enrich profit, improve production efficiency, provide better customer service, boost sales and attract a handsome amount of traffic to your official website. So, it gets tough to measure things on your plate until and unless you don't have the clarity of what to measure & how to measure it. Specify the critical success factors through the goals. The CSFs tell us about the particular circumstances and the fundamental activities that require the primary focus of the business to ensure success.
2. Analyze Current Performance
While preparing your KPIs, make sure to analyze your current performance. The KPIs designed by the company for teams & individuals are not only numbers recorded weekly. Instead, these KPIs help you evaluate and comprehend the individual and team's performances and overall business health. For example, once you access the existing work execution of employees, you get clarity on major loopholes on the part of an employee & company that needs further rectification by designing the KPIs. Following these Key performance indicators, you can expect to make a promising future. As a result, KPI reports allow companies to make critical adjustments in planning and execution to achieve strategic goals. Moreover, you get the prompt results after recognizing and assessing the valid KPIs.
3. Review Business Objectives
When you review your business objectives on a regular period, then constructing a beneficial long-term strategy gets pretty much feasible. Moreover, it allows you to formulate a versatile business to accommodate sudden changes quickly. Also, It's the responsibility of the company to communicate the correct business objectives in their organization carefully. KPIs are very significant for business objectives. It's true as this helps to maintain a clear picture of goals while making big business decisions. When you assign individual KPIs to each employee, the firm's fundamental objectives are prioritize efficiently.
The information you wish to track is further divided into more straightforward concepts. First, design the significant business goals & their KPIs. And then emphasize tracking and compiling the required data. Reviews are the best way to check loopholes and current action plans & revive them to celebrate successes. The business review meeting is held to ensure that each individual & team are accountable for their action plans. Furthermore, it helps them contribute by providing the brainstorming & creative thoughts and further comprehending the business interrelationships.
Conclusion
KPIs & KRAs are the two most crucial measuring tools that bring the company to the right track. The companies spend enormous time consistently to achieve their goals & mission. But, it's not easy to demonstrate how these corporations have worked to realize their dreams. Key Performance Indicators or KPIs are a tool that helps to specify the accomplishment made for a set objective. On the other hand, Key Resulting Areas or KRAs are the fields needing a high-end performance level for attaining a top-notch competitive personality in the same segment.