Definition
360 degree feedback can be defined as a process for employees to receive feedback from their managers and subordinates. It helps an employee understand their behavioral skills, and gain an insight into how others perceive them. and also, it improves trust and transparency within a team. Paves the way for employees to work better with each other. It also helps the organization, as a whole, to improve its quality of customer service.
What is 360 Degree Feedback
Feedback is one of the fastest ways to learn and grow. When an employee receives feedback they understand their shortcomings better and will be able to solve them better. However, we often only see linear feedback from the manager to their subordinates. While that is fruitful it is important to get 360 degree feedback to truly understand and grow holistically. It's also a great way for employees to discover their blind spots.
If you as an HR manager are looking for more time to manage human resources check out the StartupHR Toolkit. It is the largest collection of HR document templates which help you create policies, write letters, and make calculations easily. Therefore, saving you time to focus on the human resource of the company.
360-degree feedback is a performance metric system where employees receive anonymous and also, confidential feedback from the people they work with. This includes an employee's colleagues, project partners, managers, and even subordinates. Feedback gets its name from the idea that individuals are evaluated from a variety of standpoints. This is in contrast to the transitional model of feedback where superiors review their juniors.
It helps employees and managers understand their strengths and weaknesses. This model is being used by organizations to help individuals develop their professional and interpersonal skills. This model also helps HR managers make appraisal and promotional decisions. However, one must keep in mind that a 360 degree review might not be completely reliable, as the feedback is subjective and completely dependent on people's perceptions.
360 Feedback Survey Can be Effective For:
1. Measuring the skillset, behaviors, and potential for the Employee.
2. 360 Feedback Survey provides an overall perspective on how others behold an employee.
3. A proper 360 Feedback Survey also, helps to address skills like listening, executing, Goal-Orientation
4. It helps the Organization to know about individuals' areas such as Teamwork, leadership skills, caliber, and frame of mind.
5. It helps to clear Self-Awareness, Weaknesses & Strengths.
6. Increases Productivity level as well as Work Relationships
7. Provides a proper Insight of Employees.
360 Feedback Surveys Don't Evaluate:
1. 360 Feedback Surveys isn't an approach to measure the performance Objectives.
2. This process shouldn't be used to decide whether an individual is coping up with daily job requirements.
3. The Surveys don't revolve around technical or some special skills.
4. Not to be utilize to measure objective activities such as appearance, participations, sales, etc
5. Long as well as Time-Consuming Process
6. Many times feedback is unfair
7. If the senior management is not involved properly then results can be affected.
The Process of 360 Degree Feedback
The process of 360 degree feedback differs from company to company. Different companies should create their own processes to use the 360-degree model, however, there is a basic process that can be followed and also, This process can work as a guideline for HR managers to get a complete process about an employee.
1. Administering The Survey
The first step will be to create a survey for people to fill out. Questions often pertain to subjects like leadership skills, management skills, and also, communication skills. Most of these questions are based on a rating scale, but some of these might also be open-ended (for instance, 'What does X do best as a leader?'). You may also fill out the same questionnaire for a self-survey.
A 360 degree feedback survey includes responses from 6-10 people that the employee works with. These individuals are categorized in groups, depending upon their relationship with the subject under review (for example – managers, colleagues, etc). These surveys may also include external respondents, such as clients or customers. The surveys include a set of objective and subjective competency-based questions.
This gives a complete look at an employee's performance and their social skills.
2. Post-Survey Completion
Once the forms are filled, usually a trusted third party is given the responsibility to consolidate the data. Responses are grouped into categories and reported as average scores, hence individual responses can't be viewed separately. Also, this helps in maintaining anonymity and confidentiality.
A report is presented to the employee, it highlights the strengths and areas of improvement. The information gathered from this 360-degree review process encourages the employee to form a development plan. This method is only successful if the survey report offers objective and constructive feedback. Therefore, the focus should be on helping the employee improve.
The Pros & Cons of 360 Degree Feedback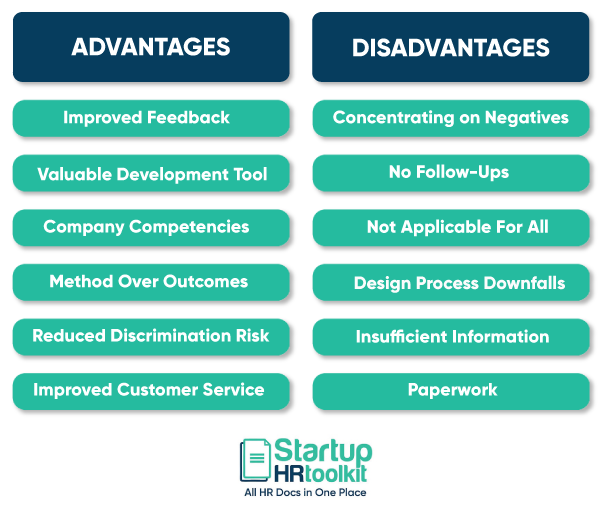 Pros of 360 Degree Feedback
The 360 degree feedback sounds like a simple process, however, it requires the correct implementation to be successful. If possible, an external committee should be asked to conduct these surveys so that the reviews are free from bias. Furthermore, it reduces the risk of the answers being revealed which ensures that people will be freer to answer truthfully.
If the 360 degree feedback survey is done correctly, the company will be benefited a lot. From better customer service to better development, the feedback can help in all those areas.
1. Improved Feedback From More Sources
Taking feedback from multiple different sources will show a broader and more complete assessment. Feedback from multiple sources also demonstrates trends and patterns over time. These patterns also help the employee to effectively plan their strategies for improvement. Additionally, it helps employees gain better feedback because the managers might have not noticed some factors, which your colleagues or customers know of.
It also eliminates partiality and favoritism, since the assessment is no longer in the hands of one individual.
2. Valuable Development Tool
360 degree feedback is usually couple with self-assessments. This will help the employee distinguish themselves from how they perceive themselves versus how others perceive them. This kind of information can be invaluable in the employee's personal development plan. Accordingly, the employee can make adjustments, and identify your training needs. All of this will help them achieve their goals.
Furthermore, It helps managers understand the strengths and weaknesses of every employee. This will help managers guide the employees better and teach them the skills that they need to relearn.
3. Company Competencies
The company's core competencies and values are brought back into focus with 360 degree feedback. Employees, as well as colleagues, are reminded of values that are highly valuable in the company. It sets the tone for the correct behaviors and the points on which the employees are judged. Here are a few competencies that companies usually value in 360-degree feedback
1. Adaptability as well as change management.
2. Analytical thinking.
3. Applied professional and technical skills.
4. Communication skills.
5. Decision making.
4. Method Over Outcomes
360-degree feedback often lays emphasis on methods over their outcomes. The reasoning is that outcomes are likely to be unpredictable. One can try their very best, but the end result depends upon several factors, many of which cannot be controlled. However, employees who follow the proper methods and guidelines in their field, give themselves a strong chance at success.
As an instance, Google has recently started an initiative where they insist on giving their employees an extra day off in addition to Saturdays and Sundays. Even though this might delay the project deadlines, employees who are relaxed are likely to be more productive.
5. Reduced Discrimination Risk
360 degree feedback results are an amalgamation of reviews from different sources. When feedback comes from different individuals having different backgrounds, the risk of discrimination on the basis of age, sex, race, and color is reduced.
No single person retains the right to control the outcome of an assessment. This proves especially beneficial, in cases where the managers might rate employees based on their most recent interactions, or based on their personal perceptions of an employee. This, therefore, works as a general and average review of an employee from all sides.
6. Improved Customer Service
Feedbacks in this model may include external sources, as mentioned before. These external sources can be clients of the company or customers that the employee has recently interacted with.
Direct feedback from customers about an employee can prove immensely valuable. Also, It can help employees gain feedback on how they can improve upon their quality, promptness, and reliability of products and services. Furthermore, it also helps the company understand the values and traits that the customer appreciates and pays attention to. This will help the employees evaluate whether certain procedures or methods resonate with the customers or not.
Cons of 360 Degree Feedback
While 360 degree feedback can be beneficial for a company, it is a lengthy process and takes time. Furthermore, the process can be a complete waste of time resources if not done correctly. Let us take a look at the disadvantages of 360-degree feedback.
1. Concentrating on Negatives
Organizations can sometimes over-emphasize an employee's weaknesses and areas of improvement. They might discount an employee's strengths in the process. It can discourage the employees and make them distrust the 360 feedback process. To avoid this, companies must ensure that an overall evaluation is done, and the reports are presented with objectivity and improvement as their focus.
2. No follow-ups
Alone-time assessment serves little purpose. During the initial assessment, companies chalk out the development plan for their employees. Unless those plans are following upon, the first survey alone is of little use. Generally speaking, companies must have a 2-year development plan, with feedback and follow-up rounds every 6-12 months.
3. Not applicable For All
'One size suits all' doesn't really work with a 360-degree feedback process. Every company has to decide whether this system works for them and also, it helps them in realizing their objectives. Additionally, companies have to figure out whether the feedback process would be internal or external (feedback from colleagues or from clients too), and what competencies are included in the evaluation.
4. Design Process Downfalls
Designing the 360 feedback review is a challenging process. Design decisions include factors like 'Who would be included in the design process?', 'Will the survey be interview-based or rating based', 'Which rating systems and parameters are being utilized?'.
These design structures have to be carefully evaluated to avoid the pitfalls that come with them. For instance, interview-based feedback might be more comprehensive, but it's subject to different interpretations.
5. Insufficient Information
As stated before, 360 degree feedback mechanisms have to be anonymous to yield the desired results. However, this has a drawback where employees cannot further clarify or question the results of their assessment. Especially in cases where an employee is unclear about some piece of information or their rating, they could get stuck at a dead end. This contradicts the principle of a 360-degree approach, as employees can't form a development plan without understanding their flaws. Dedicated feedback reviewers and managers might be able to help in such cases.
6. Paperwork/Computer Data Entry Overload
Taking into account the sheer number of people who take part in the feedback process, this particular drawback is not so surprising. Designing a multi-rater feedback system, and then calculating average scores for everyone can be a tedious task. However, most modern feedback systems automate the manual data entry and reduce the actual paperwork to a bare minimum.
Therefore, this can solve with the correct use of modern systems.
7. Conflicting Feedback
If feedback is poor, it can create mistrust and confusion among team members. At times, the feedback may also have conflicting reports. In such cases, it is difficult to determine which source is more accurate. The conflict occurs because 360 feedback is a very subjective process. People may have varying views about an employee's qualities, skills & behavior, depending upon their personal interactions with them. Conflicting feedback does not help the employee understand their development areas. They can end up with a lot of confusion instead of clarity. A good feedback design would anticipate this subjectivity, and also, design the survey to minimize the problem.
How can you, as an HR manager, use 360 Degree feedback?
As a manager, you can utilize a 360-degree feedback system in one of the two ways. for example:
1. As a tool to Mentor Your Employees & Subordinates
You can design these feedback reviews to enable your employees to understand themselves and their fit in the company. Based on what areas need improvements, the HR managers can organize upskilling and also, training sessions for their employees. They can also guide the employees about improving the customer experience.
2. As an Appraisal Tool To Make Decisions
As a manager, you are often in a position to make upsizing and downsizing decisions within your company. 360 degree feedback is an excellent performance metric. You can incorporate 360-degree feedback into a larger performance management process. This will enable you to make decisions regarding promotions, pay raises, and layoffs with an objective outlook. Data-driven decisions are often more likely to yield outcomes.
Sample Questions to Ask in 360 Degree Feedback.
Questions to evaluate managers and identify potential leaders within an organization
1. Is the subject good at solving problems?
2. Does the subject treat others with respect?
3. Is the subject able to resolve conflicts and handle critical situations?
4. Is the subject honest, ethical & trustworthy?
5. Does the subject utilize his/her time effectively?
6. Does the subject motivate others to reach their goals?
7. Does the subject fit well with your company's values and objectives?
8. While making important decisions, does the subject consider opinions by others?
9. Has the subject taken the initiative to lead a project or an assignment?
10. Can the subject be relied upon?
Questions for employees to improve their communication and interpersonal skills
1. Does the subject work well with a team?
2. Is the subject following instructions and procedures they are supposed to?
3. Does the subject display empathy and compassion towards others?
4. Is the subject able to foster meaningful and also, positive relationships with others?
5. Does the subject present himself/herself as a responsible and reliable team member?
6. Does the subject's presented solutions clear and impactful?
7. Does the subject adopt an innovative and 'out-of-the-box' approach to solve problems?
8. Is the subject open to receiving feedback from others?
9. Does the subject communicate well with employees, managers & peers?
10. Does the subject deliver presentations with clarity and ease?
Conclusion
360 degree feedback provides employees with a well-rounded and also, balanced review of their strengths, weaknesses & behaviors. Feedback from various people in an organization reflects a fair and accurate picture of how an employee is received by his/her peers. As an organization, it would be a smart business decision to implement 360-degree feedback mechanisms.
The main benefit of doing so would be improved transparency in your employee communications. It would also help employees gain a clear idea of what's expected of them and what behaviors and goals they would work upon. A good 360-degree feedback system would boost your company's overall performance.
Join a Community of 75,000+ HR Professionals