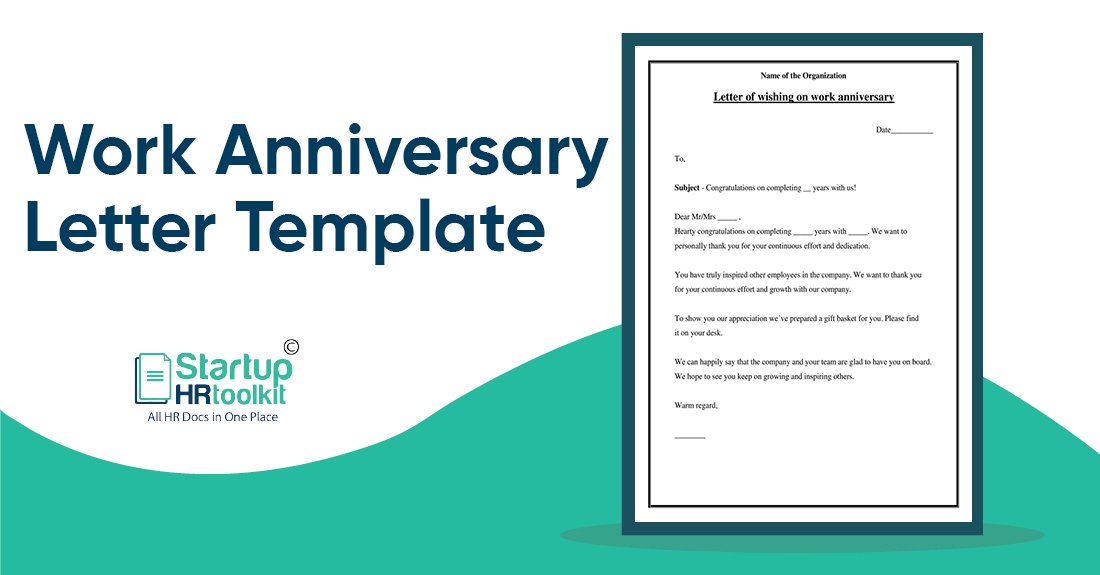 Work Anniversary Letter
Work Anniversary Letter Template
What is Work Anniversary Letter?
A Work Anniversary Letter is a document that employers or managers send to their employees to celebrate their anniversary of joining the company. It's a way to celebrate the employee's contribution and loyalty to the organization and to express appreciation for their hard work and commitment over the years.
In addition to expressing appreciation, a Work Anniversary Letter can help boost employee morale and motivation. It shows that the employer values and recognizes their employees' hard work, which can lead to increased job satisfaction and loyalty.
StartupHR Toolkit helps to create a Work Anniversary Letter sample easily; you just have to mention your details, and that's it. In addition, you get 3500+ HR documents that include legally compliant updated HR policies.
Why Celebrate Employee Work Anniversary?
Celebrating work anniversaries is a way for companies to recognize and appreciate their employees' dedication, hard work, and contributions to the organization. A Work Anniversary Letter to Employee is a simple yet meaningful way to commemorate an employee's years of service and express gratitude for their efforts.
Work anniversary celebrations can have several benefits for both employees and the company. First, it can be a morale booster for employees, as it shows that their work is valued and appreciated. It can also increase their loyalty and attachment to the company, leading to more retention rates.
Lastly, celebrating work anniversaries can provide feedback and recognition of an employee's contributions and achievements, helping them feel valued and acknowledged. It can lead to increased engagement, motivation, and job satisfaction.
Below are some points to consider when discussing the benefits of celebrating an employee's work anniversary.
1. Increases Employee Retention:
2. Boosts Employee Morale:
3. Demonstrates Company Culture:
4. Encourages Engagement:
5. Improves Employer-Employee Relationships:
Tips to Write Work Anniversary Letter
Do you want to show appreciation for an employee's long-term commitment and impact on your organization? A work anniversary letter can help you express your gratitude and highlight your achievements meaningfully and meaningfully.
But the question is, what do you write in a Work Anniversary Letter to Employee? Don't worry; here are some tips to guide you in writing a meaningful and memorable letter:
1. Introduction
Start your letter by greeting your colleague or employee. Use their name, and express your excitement and gratitude for the years of service they have given to the company.
2. Opening Remarks
Share personal thoughts and feelings about the employee. Express how their work has made an impact on the company and how they have contributed to the organization's growth and success. Acknowledging the employee's hard work and dedication is also a great opportunity.
3. Achievements
Highlight the employee's achievements during their tenure with the company. Mention specific projects or initiatives they led and how they positively impacted the company. It can also be an opportunity to highlight their accomplishments outside work, such as volunteer work or personal achievements.
4. Recognition of Talent and Skills
Acknowledge the employee's unique skills and talents that have contributed to their success in the company. Highlight their strengths and how they have made a significant difference in the organization.
5. Encourage Employee
Encourage employees to continue their hard work and dedication toward their roles. Motivate them to strive for further growth and development in their career.
6. Closing Remarks
End the letter with a positive note, expressing your appreciation and gratitude once again. Convey your best wishes for their future ventures and emphasize their value to the organization.
Work Anniversary Letter Template
Dear [Employee's Name],
We are thrilled to congratulate you on completing [Number of Years] years of dedicated service with our organization. Your dedication and hard work have been too valuable to us, and we wanted to express our appreciation for everything you have done personally.
Your dedication and effort have not gone unnoticed, and we are grateful for your contributions. You have set an excellent example for your colleagues, and we appreciate your impact on our organization.
As a token of our admiration, we have prepared a gift basket for you. It is our way of saying thank you for your efforts, and we hope you enjoy it.
We are great to have you on our team and look forward to seeing you continue to grow and inspire others. Thank you once again for your diligent work and dedication.
Best regards,
Fill In The Blanks
Customize Template
Save, Print, Done.
Download StartupHR Toolkit Instantly & Access Largest Collection HR Documents.
The only Toolkit to solve all your HR problems in minutes.
Legally compliant and govt approved HR documents.
24×7 customer support over chat & calls (during daytime).
Up to date documents as per the latest Statutory Law.
3 FREE customized documents with
Join a Community of 1,00,000+ HR Professionals
Recent Post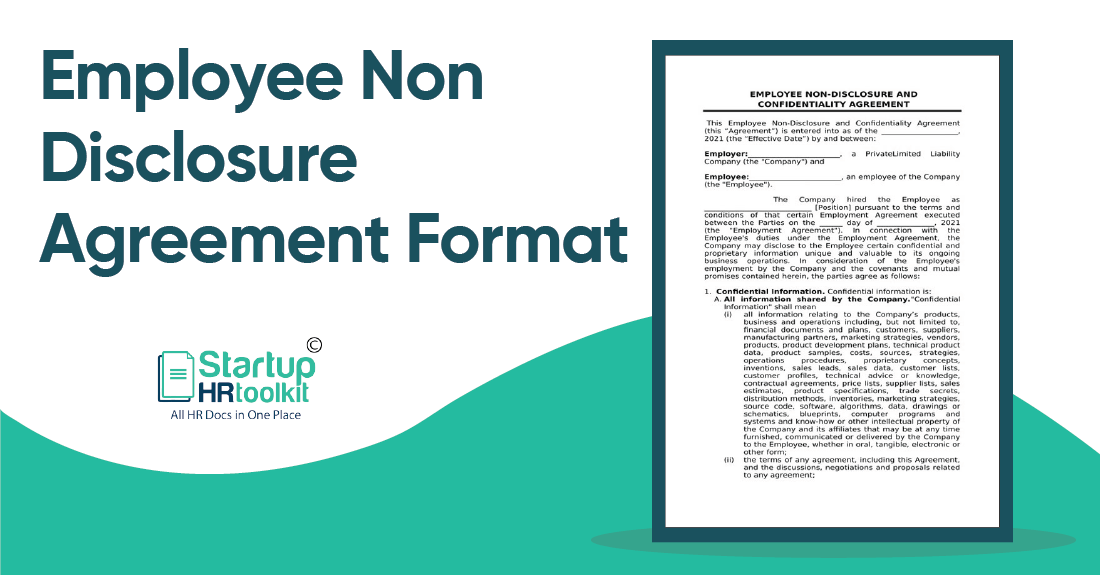 All organizations have specific information and processes that they want to keep confidential as they are too sensitive. To ensure that they remain a secret, employers make their employees sign an Employee Non Disclosure Agreement format.
An employee recognition letter is a means for employers to thank and appreciate employees for all their hard work and dedication. This letter aims to show and appreciate them for putting in a lot of effort in their job. It motivates them to work harder and achieve all their targets.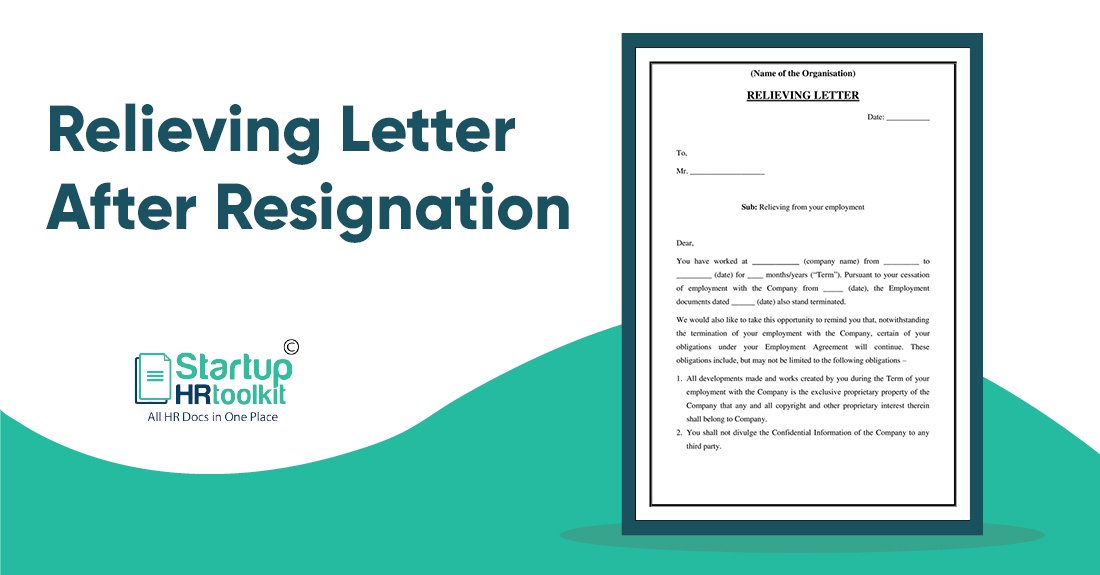 A relieving letter sample is provided to employees when they leave an organization. The Letter states that the employee left their previous employment after a full and final settlement and now join a new organization.