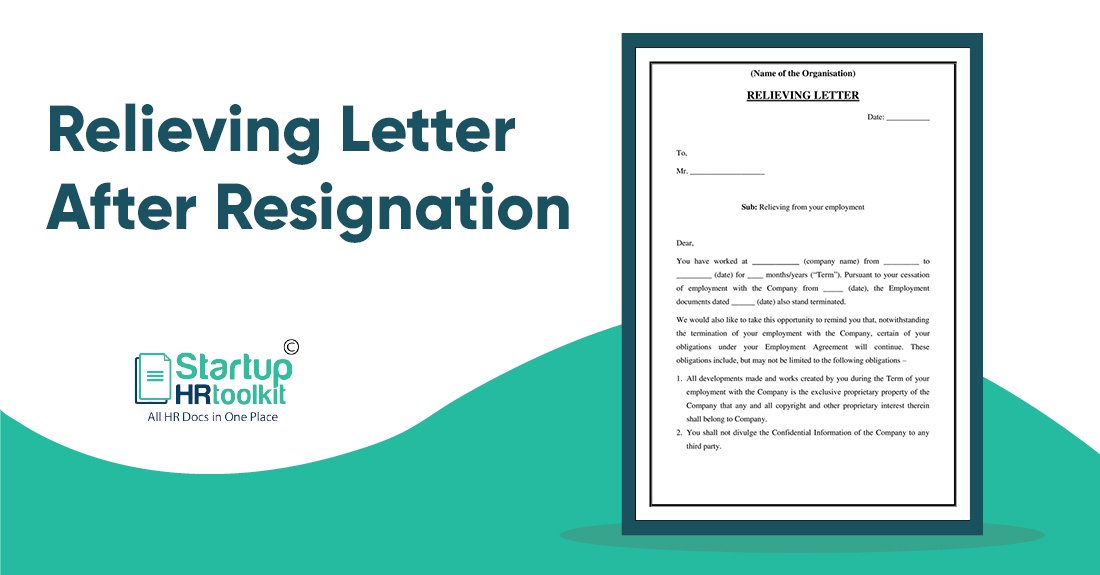 Relieving Letter After Resignation
Employee Relieving Letter Format
What is a Relieving Letter?

A relieving letter sample is provided to employees when they leave an organization. The Letter states that the employee left their previous employment after a full and final settlement and now join a new organization. The relieving letter is given to employees by their HR Manager or senior on their last working day. You can also request your relieving letter to the concerned person after your resignation.
Importance of a Relieving Letter After Resignation

1. A relieving letter sample is a professional document that ensures that you have left your previous organization and are now ready to join your new firm.
2. According to studies, more than 90% of recruiting agencies require a relieving letter format at some point.
3. It does not matter if they are selected if they do not present a relieving letter; it becomes a matter of discussion.
4. When an employee presents a company with a relieving letter after resignation from the previous company, it states that there are no pending payments left at your last organization.
5. When an employee joins a new organization with a relieving letter, it is a form of proof that the employee has left their previous company and has no further liabilities.
6. A relieving letter format confirms your resignation and relieving from your previous organization. It also ensures that you are free from all your roles and responsibilities and no longer possess company information.
How to Write a Relieving Letter?

A relieving letter is offered to an employee after resignation, and their resignation has been accepted. So now they are free from all obligations, things to include while writing a relieving letter after resignation.
1. The company's letterhead should print the communication matter.
2. The proper greeting is "To Whom It May Concern" unless the employee mentions a specific name.
3. Mention that you have accepted the resignation and the employee's appropriate title.
4. Mention the joining and the leaving dates.
5. The email should be composed in a formal manner and tone.
Relieving Letter Format Include
1.

Date

The date is essential and is on the page's top. The date can be of massive importance in case of any dispute. 
2.

Employee Information

Includes everything related to the employee, like his name, designation, joining and resigning date, and department. The name of the company can also come under this section if necessary.
3.

Subject

This section informs about the purpose of the letter.
4.

Salutation

Under this section, the receiver is addressed by their first name along with a formal greeting like Dear, Ramesh.
5.

Body of the letter

Here is every necessary detail related to the employee's resignation to an employer accepting the resignation. It also shows the employee's resignation date and last day at work.
6. 

Appreciation and Formalities

This assures employees that they will get their full and final settlement after a specified period. This is followed by thanks and appreciation for their input into the company.
7.

Signature

This is mentioned at the bottom left of the page. 
Employee Relieving Letter Format in Word
Dear,
From to _________, you worked in (business name).
("Term") on ________ (day) for ___ months or years. Due to your withdrawal of ______ (date) of employment with the company, the Employment Documents dated as of (date) are no longer valid.
Additionally, we remind you that notwithstanding if you quit your job after working there for a while, some of your Employment Agreement's duties will still be in effect. These responsibilities consist of, but are not limited to, the following:
1. All improvements and works produced by you over your company's employees are its exclusive private property.
2. You must keep the company's confidential information a secret from any outside parties.
3. You must refrain from making any statements, complaints, writings, or postings about the company in any media or government agency.
4. Received your complete and final payout returned the company's assets and tools and done all necessary steps to terminate your employment with the company.
5You have already collected your complete and final payment, and the corporation owes you nothing.
Please contact the undersigned immediately if you have any queries about the material in this letter.
We hope your future pursuits go well for you!
Yours Sincerely,
(Name) \s(Designation)
Fill In The Blanks
Customize Template
Save, Print, Done.
Download StartupHR Toolkit Instantly & Access Largest Collection HR Documents.
The only Toolkit to solve all your HR problems in minutes.
Legally compliant and govt approved HR documents.
24×7 customer support over chat & calls (during daytime).
Up to date documents as per the latest Statutory Law.
3 FREE customized documents with
Join a Community of 1,00,000+ HR Professionals