Reward And Recognition Policy
Reward And Recognition Policy Templates
What is Reward And Recognition Policy?
A reward and recognition policy outlines guidelines by the company for encouraging the hard work, & accomplishments of their employees. The policy states the standards, eligibility, process & other terms or conditions associated with the reward & recognition of employees. Such policies are made to pay gratitude to employees for doing things out of the box & leading to extraordinary outcomes through their dedication, perseverance, and consistency. There is a predefined approval process for recognizing and rewarding employees to ensure fairness and uniformity.
Purpose
Rewards and recognition aim to develop a healthy work culture where employees are recognized and valued for outstanding performances. Rewards and recognition are continuous and ongoing processes. Appreciating staff and rewarding their hard work makes employees feel motivated and belong to the company leading to a 10x increase in productivity. Such a beautiful gesture of paying gratitude to employees can occur weekly, monthly, yearly, quarterly, or at a special ceremony. Here is a detailed discussion of the overall purpose of the rewards & recognition:
It enhances an employee's overall quality and productivity by providing timely recognition at the workplace.
It picks up employees who went the extra mile to bring value-added contributions to the company and perform their day-to-day rules and responsibilities.
It celebrates the success of employees & boosts employee engagement.
It promotes team-oriented work culture & setting standards of bare minimum expected performances for the upcoming employees.
It creates a positive outlook towards work, company, individuals, teammates, higher authorities, etc.
Eligibility
The reward and recognition policy applies to full-time employees in a particular financial year. Before using it for rewards and recognition, employees should check the policy terms, conditions & eligibility. Here are the minimum eligibility criteria that every employee should meet:
An employee should have been serving the company for at least six months.
Employees should not have been involved in disciplinary action cases for at least the last 12 months.
An employee should have proof of being the nominee for rewards and recognition in the written document by his reporting manager.
Criterion and Categories
Here is the list of criteria and categories based on which employees are eligible to get the rewards and recognition:
1. Work Anniversary/Loyalty Bonus
Employees with the leadership qualities to support their teammates are honored with the awards.
Employees who have spent time with the company for a specified period are eligible for loyalty rewards. Having said so, they should have spent at least one year, three years, or five years in the company.
Employees who have mastered their respective fields bringing high-end productivity and efficiency to the company, get recognized.
Employees who have been using the company's resources optimally in the best possible manner are subject to getting an appreciation for the rewards and recognition.
2. Paternity/Maternity Bonus
Male employees are eligible to receive paternity leave of 10 days in most companies to support their wives.
Pregnant or newly become mothers are eligible to get maternity leaves, and the time duration might vary according to the company's policy.
Employees are also eligible to get the bonus based on the management decision.
3. Employee of the Year
Employees have smart problem-solving & crucial decision-making skills are also recognized by the management.
Remarkable performance, reaching a milestone & team accomplishments are rewarded.
Contributes towards identifying the company loopholes & providing consistent improvement ideas for effective changes.
Employees thoroughly understand their roles and responsibilities and work towards them with integrity and honesty.
Employees who have been active members of professional development programs are rewarded.
4. Perfect Attendance
The employee who has maintained the record of the highest attendance & punctuality is eligible for the reward.
The employee should also meet all other eligibility criteria stated in the above section to get a bonus.
Nomination and Selection Process
Nominations are an open process conducted to recognize the remarkable performance of every employee. The Selection of employees is primarily approved by the reporting manager, whose duty is to ensure that the extraordinary performances of nominated employees meet the criteria mentioned in the rewards & recognition policy.
Fill In The Blanks
Customize Template
Save, Print, Done.
Download StartupHR Toolkit Instantly & Access Largest Collection HR Documents.
The only Toolkit to solve all your HR problems in minutes.
Legally compliant and govt approved HR documents.
24×7 customer support over chat & calls (during daytime).
Up to date documents as per the latest Statutory Law.
3 FREE customized documents with
Join a Community of 1,00,000+ HR Professionals
Recent Post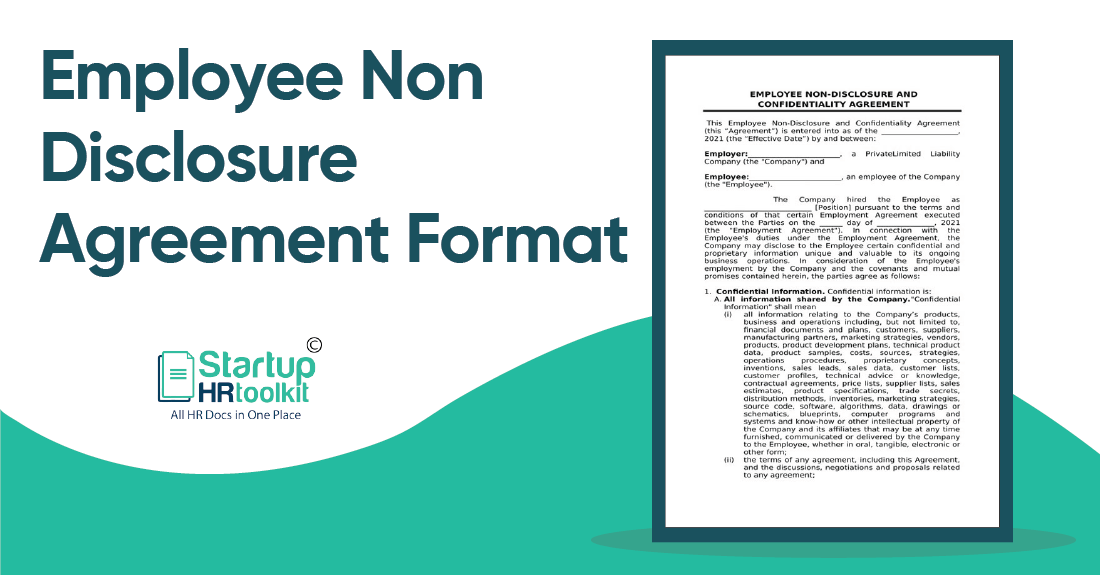 All organizations have specific information and processes that they want to keep confidential as they are too sensitive. To ensure that they remain a secret, employers make their employees sign an Employee Non Disclosure Agreement format.
An employee recognition letter is a means for employers to thank and appreciate employees for all their hard work and dedication. This letter aims to show and appreciate them for putting in a lot of effort in their job. It motivates them to work harder and achieve all their targets.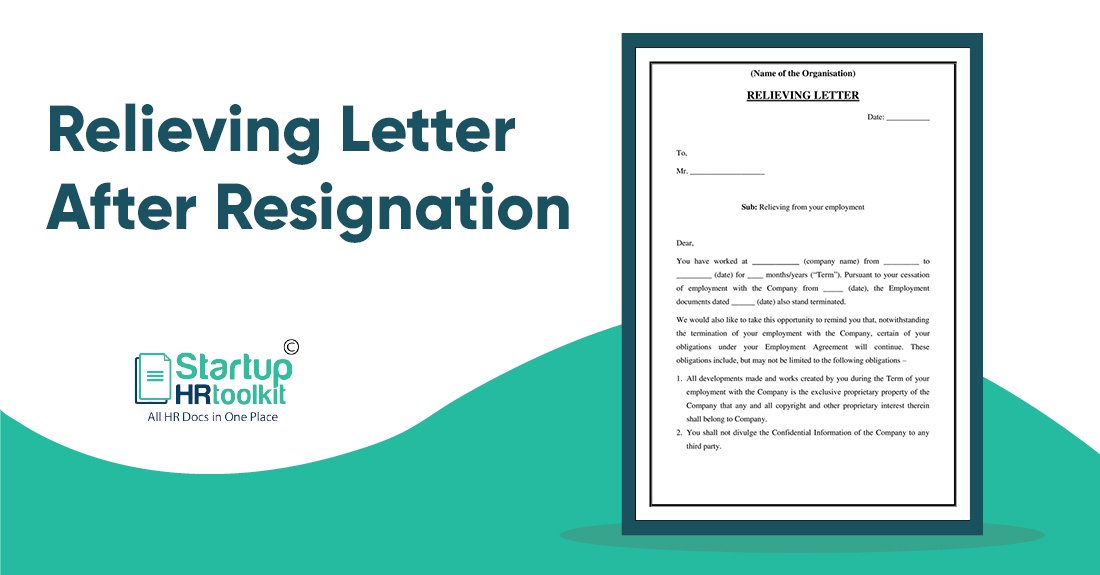 A relieving letter sample is provided to employees when they leave an organization. The Letter states that the employee left their previous employment after a full and final settlement and now join a new organization.