Get All HR Letters and Email Templates At One Place
All HR Letters and Email Templates At One place
Human Resource HR letters are an important form of communication between an employer and employee or prospective employee.
StartupHR Toolkit has created and integrated such letter templates in our new product named StartupHR Toolkit. These sample Human Resources letters provide guidance for common letters that you encounter in business, management, and HR. The samples give you a template that you can use for guidance when you need to craft your own HR and business letters
Use these letters to make job offers, thank rejected job candidates, resign from your job, review resume cover letters, say thank you, and provide effective employee recognition. These are sample HR letters that cover many of the contingencies you encounter in your HR practice. They help you foster relationships with your candidates and colleagues. They help you find a new job or a qualified candidate for your company job opening. No end exists for the uses you can make of well-written, effective HR letters. Use the following samples to your best advantage. Employment/HR letters are an important form of communication between an employer and employee or prospective employee they serve as documentation about the communication.
Download Free HR Letters
The Ultimate Guide to Accelerate Your HR Productivity
IMPORTANCE OF HR LETTERS and TEMPLATES:
Creating all of the necessary HR letters from scratch is a time-consuming and labor-intensive project. StartupHR Toolkit has created letter templates to help HR professionals. You can customize them to their specific needs.
USES:
-Acknowledging a receipt of a resume
-Making a job offer
-Rejecting a candidate
-Welcoming a new employee
-Notifying an employee of a promotion
-Recognizing an employee for superior performance, and
-Disciplining an employee
1. Probation Extention Letter
The probation period is a duration in which the performance and behavior of newly hired employees are monitored. His or her manager does this in order to check their potential as well as their suitability to the job. Any other case which is recommended by the reporting manager or HR department can be considered for probation period extension based on the severity of the circumstances
2. Confirmation Letter
A confirmation letter is a formal document that summarizes the verbal agreement made between two parties. The confirmation letter is used to confirm the job of these new candidates in the organization.
3. Experience or Reliving letter
Relieving Letter: This letter you get instantly at the time of leaving the company. The content of the Hr letter states that you have been released from your services and you will receive this on TCS letterhead.
Experience letter: This letter you will get after some months of relieving letter.
it states your experience in a particular domain with the time you have served the company.
4. Full and Final Settlement With Confirmation
The process for F & F settlement' is fairly simple and as per the appointment contract. As far as the period for settlement is concerned, going strictly by the rules, the final settlement needs to happen on the employee's last working day at the organization. However, as clearances take time, it is a prevalent policy to do so within 30-45 days after the employee has left.
5. Warning Letter For Attendance Issues
A warning letter is issued to you for erratic patterns of attendance and uninformed absence from work.
6. Warning Letter For Behaviour Issues
An employee behavior warning letter is a document that an employer issue to notify an employee that they violated company policy.
7. Final Warning For Behaviour Issues
A final warning letter is given to the employee if he/she does not act on the warning letter in an expected manner.
8. Warning Letters For Performace Issues
An employee performance warning letter is a document that an employer issue to notify an employee that they are not performing up to the expected standards.
9. Lay Off Due to Co-Bu-Dept Shutdown
When a company shuts down due to debt and insolvency issues, the employee is laid off with the help of this document.
10. Job Suspension During Misconduct Inspection
When an employee is being inspected on alleged misconduct, the employee is suspended during the period of investigation.
11. Relieving Letter After Resignation
A relieving letter is a document provided to an employee on confirmation of resignation that he/she has been relieved of duty. Relieving letters are frequently asked for by the new employers to guarantee that the employee has finished his/her notice period and left the past employers. The relieving letter is proof that the employee has completed all the exit formalities with the previous employers.
Working in the human resources industry, you will largely encounter instances where you will be required to send (sometimes draft from scratch) important emails and HR letter templates. These include internal communications with employees on confirmation, promotion, resignation, and much more. External communications with candidates include emails for offer letters, rejections, and other similar situations.
Hunting for relevant samples and HR letters to employees to refer to every time is a ginormous task. This can be completely avoided simply by having a readymade template at hand.
Sample Document of Offer Letter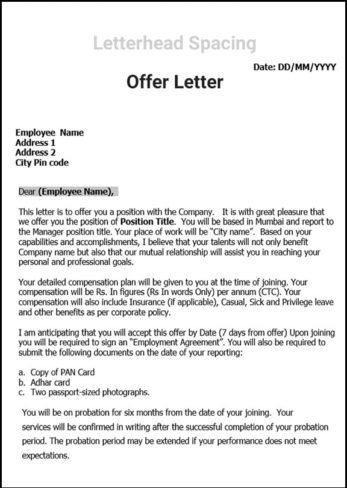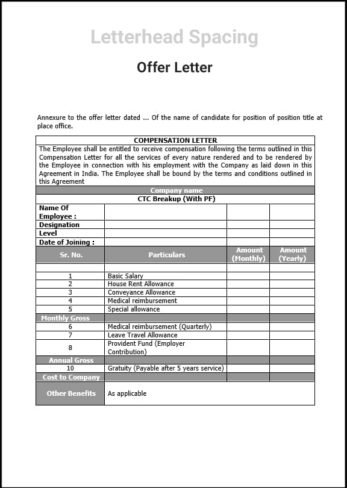 The idea behind StartupHR Toolkit is to make HR documentation an easy and quick process. 😃
Just check out our happy customer 😉 giving their whole heartedly feedback to our product StartupHR Toolkit 😊
Get Instant Access
How can StartupHR Toolkit's HR letter templates help?
StartupHR Toolkits HR Letters and Templates module comes preset with a lengthy list of letters you would need to convey any message. It saves both your time as well as efforts. Gone are the days when you had to rely on search engines to give you the best results. You can directly make use of the module to cover any possible scenario. StartupHR Toolkit has designed and drafted a colossal list of HR letter templates in a dedicated template library. We're constantly updating this list with new templates to stay up-to-date with all your needs. We also add new templates based on the feedback given by our beloved customers.
Also Read: 
Employee Offboarding Checklist: Exit Process
List of 10 Essential HR Documents 
As an admin, the HR letterhead templates can be customized as per your company protocol. Letter margins – the top, sides, and the bottom – can be made to look the same as the current pre-printed letterheads. You can even upload images for the header and footer to be appended to the HR letters. Say goodbye to worrying about using the perfect HR letter formats as they are pre-installed StartupHR Toolkit's HR letters to employees feature.
Since the templates come preset with content, you might be worried about having to manually add details like their first name, last name, address, etc. StartupHR Toolkit's email template feature automatically integrates all HR data with our responsive email templates when you generate them on the system. You no longer need to cross-check or verify important details or remember any of the variables to fill in. By integrating these templates with your HR data, StartupHR Toolkit is automating the entire process of writing letters with minimal efforts and human error from your side. The effort being, you only select the letter you want to print.
Join a Community of 75,000+ HR Professionals