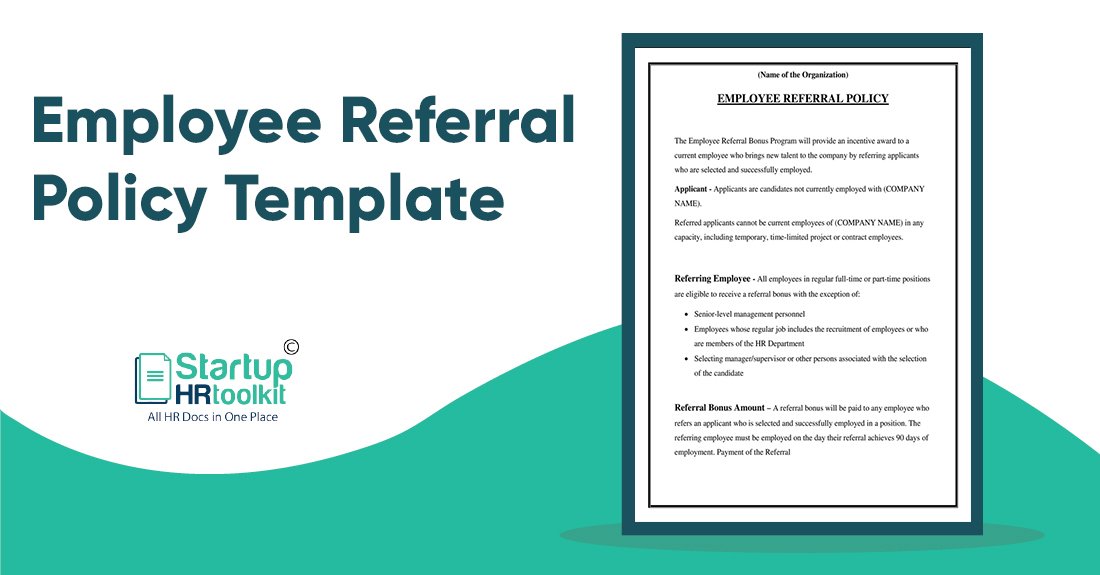 Employee Referral Policy Template
Employee Referral Policy Sample
What is an Employee Referral Policy?
Employee referral policy is an elementary course of action related to recruitment. Under this process, an existing employee refers a candidate to the organization. An employee referral policy is one of the best practices for appointing an employee for the organization.
It gives equal opportunity to every employee to present and refer their candidate. Every employee understands the company's culture and environment, and the company trusts their employee's judgment while selecting their candidates. It is considered the best practice for hiring employees though it has to be transparent and right.
Why should you opt for this policy?
There are numerous reasons why you should hire your employees through this policy.
1. Better Quality Hiring
Hiring through a referral is the best hiring process because an employee referring a candidate is already aware of the organization's culture, ethics, and what the company requires. This helps an organization hire qualitatively and helps the organization acquire the best fit. 
2. Increased Hiring Speed 
The time taken to post and constantly search for a candidate can be reduced to where an employee refers a candidate to the employee, and the process can be taken forward. It can accelerate the whole hiring process way too quickly. 
3. Advances Employee Morale
Employees feel useful and appreciated when contributing to the company. Imagine, as an employee, you refer a candidate to your company, and in return the company hires them. Wouldn't that make you feel spirited?
4. Cost Effective
Employee referral is much better than spending extensively on external sources to recruit candidates. It takes immense time and effort, and you need to comprehensively work through external sources, whereas your work becomes much easier through employee referrals.
5. Referral Bonus Amount
One of the most appealing parts is that whoever refers an employee and if their employee is selected, they recieve a referral bonus. But the validity of the referral employee is only for 90 days. If, after that, the candidate joins, it would be considered a candidate whom the company has reached out to, and the employee wouldn't get the referral.
Eligibility Criteria for Employee Referral Policy 
1. The eligibility criteria do not employ anyone related to an employee's family, like spouses or relatives.
2. Any arrangement that could put two persons in a subordinate-supervisor relationship and lead to a conflict of interest.
3. No referral bonuses are paid if the employee is retired, rehired, or returning from a leave of absence.
4. No additional bonuses are paid to employees from the HR or management departments.
5. Suppose an employee makes false promises and assurances of employment to candidates or engages in inappropriate behavior related to this policy. In that case, the subject is to be termed to review and revision.
Fill In The Blanks
Customize Template
Save, Print, Done.
Download StartupHR Toolkit Instantly & Access Largest Collection HR Documents.
The only Toolkit to solve all your HR problems in minutes.
Legally compliant and govt approved HR documents.
24×7 customer support over chat & calls (during daytime).
Up to date documents as per the latest Statutory Law.
3 FREE customized documents with
Join a Community of 1,00,000+ HR Professionals