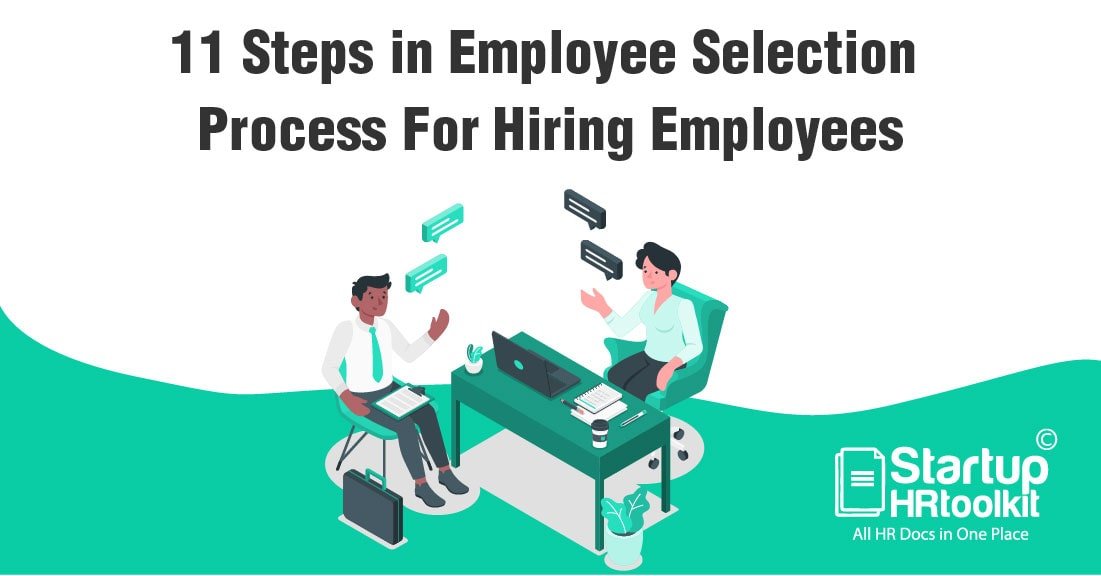 11 Tips For Employee Selection Process: The Definitive Guide
The employee selection process steps is an activity that demands a lot of effort and planning. The selection process is meant to identify and absorb the right fit in a company. But what does the right candidate mean, and what is an excellent employee selection process?
Companies big or small unless they have explored and brainstormed these two questions, will not be able to recruit the right fit. Before commencing the Employee Selection Process, the company should ensure specific steps to an efficient selection process.
 The StartupHR Toolkit includes all the recruiting and onboarding documents you will require including Job interview questions, job offer templates, referral templates along with specific job descriptions for different roles.
What is the Employee Selection Process?
The employee selection process is requires advertising, reviewing, screening, cold calling, interviewing, testing & then selecting the right candidate at right place. It can be defined as the hiring & shortlisting candidate with skillset & necessary qualification to fill the vacancy in a company.
The employee hiring process is essentially a process to find the right candidate for a job. It is a step by step process which start from announcing a job and ends with an offer letter.
 The employee selection process is an important part of the HR department's duties. If the right candidate is not hired, then it can be really costly to the company. It can cause the company being forced to start the process over again from finding the right candidate, onboarding them and then training them.
 Therefore, it is important to ensure that the employee selection process is done well and with utmost diligence.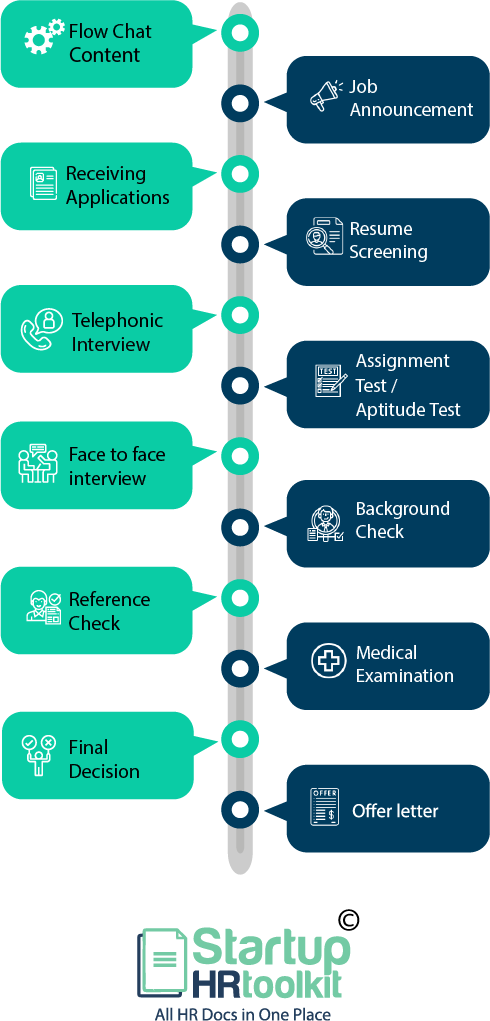 Step 1. Job Announcement
The very first requirement of an employee selection process is a well-written job description. The job description gives clarity on the job role, skill sets, technical, and other expertise required of the candidate. Therefore, a detailed job description will avoid wastage of time in screening through applicants who aren't fit for the role. It gives a candidate the opportunity to assess themselves clearly before applying for a role.
A line manager should ideally prepare a job description for better job role clarity. The HR then puts this job description on various platforms including the company's website, social media pages, and also gives it to placement agencies.
Also Read: 10 Highest Paying Jobs in India
Step 2. Receiving Applications / Resume
The company should be prepared to accept applications across different mediums. Invite all the resumes to one email ID for efficient data gathering. Ensure the company's website is able to receive the CVs without any technical glitches. Once the CVs are received, a unified destination makes sorting and reviewing easy. In the case of different vacancies offer different email IDs.
Furthermore, keep in mind that in a bad economy you will receive over-qualified applications while in a good economy it will be difficult to find enough qualified candidates.
Step 3. Resume Screening
An advertisement might fetch you job applications in huge numbers. Are you prepared to review applications in massive numbers? Have teams set in advance to do an initial shortlist of the curricula vitarum under the parameters like – Male /female, Experience, skills, education, location, salary bracket, and communications skills.
a. Check Resume Layout
Ensure that the resume is in the correct format and is easy to read. A person's resume design says a lot about their involvement and their design sense. A neat and easy to read resume reflects on the clarity of an employee's mind. It also shows their professionalism.
b. Qualification & Cover Letter
Companies also conduct tests as a part of the preliminary screening process. These tests could be aptitude, proficiency, intelligence, or personality tests. Different organizations hold different tests based on the requirement of the job vacancy. Tests give a reasonably clear picture to have the candidate go through the further rounds.
Furthermore, their cover letters shed light on their communication skills and their ability to follow directions. You can also use scanning software to scan through the resumes to find the right keyword.
Step 4. Telephonic Interview
Once the screening is done and relevant candidates have been found through a huge pile of applicants we move on to the next step in the employee selection process. All candidates are called and asked basic questions to understand whether they fit the requirements of the job or not.
Before getting on the call make sure you have written down your requirements and have a set budget for the position. Go through the candidate's resume once before calling them to understand whether they are fit for the position or not.
Few questions to ask in this stage are:
✅ Are you looking for a full-time job?
✅ Will you be willing to travel to the job location?
✅ Do you have the required gadgets for a flexible work environment?
✅ Could you take me through your resume?
✅ Will you be able to meet a certain requirement?
✅ How long is your notice period?
✅ What is your current salary and how much do you expect?
Step 5. Aptitude test and Assignment Test
Before having a one on one call with the candidates you can give them a test. This will give you a clear understanding of their skill levels in relation to their experience. These tests are usually done online to save time and resources.
Both aptitude tests and assignment tests are different. Aptitude tests will help you understand a person's ability to do a certain task. It checks whether their innate abilities and personalities match with the requirement of the task. For example, puzzles related to logical reasoning or technicalities can be asked.
Assignment test work on understanding if the candidate has the required skillsets for the role. It re-confirms the experience that the candidates show in their resumes. This test is technical and focuses on the technical aspects of the job while aptitude tests focus on the individuality aspect of the test. For example, a writer can be asked to write a content piece or a teacher can be asked to create a lesson plan.
Conducting both these exams will give you a clear view of the candidate and their capabilities. Thereby, saving the company time and resources in the future.
Step 6. Employee Assessments and Personal Interviews
Once the applicant goes through the initial screening process, followed by the tests, he/she is then made to go through a personal interview. Personal interviews are a way of knowing a candidate better.
The parameters that one evaluates in personal interviews are communication skills, ease of communication, experience verification, expertise in skills, attitude, an inclination to the job applied, acceptance levels etc.
The personal interview could also include a technical interview for technical job positions. The HR also checks on the candidate's psychological and social parameters. Like their ability to be a team player, their ability to respond to situations, their conduct as an individual,  their strength and weaknesses, their background information, their accomplishments, their ability to adapt, their leadership skills, their hobbies, goals, failures, management skills and more.
The Personal Interview Takes Place in Different Ways:
a. One-to-One Basis
The applicant is met on a one-to-one basis by the deciding authority. The deciding authority could be a line manager, a management professional, or a Human Resource professional, depending on different requirements.
This requires a meeting to be set up between the applicant and the deciding authority. They then talk about the reality of the role and the requirements of it. This gives the manager a chance to choose the candidate that they believe will fit well in the role. Apart from the person's skills, their interpersonal relations, their ability to handle certain situations and their experience are checked.
Few questions to ask during an interview are:
✅ What is their expectation from the role?
✅ Why would they like to work with this company?
✅ What did they not like about their previous job?
✅ What are your weaknesses and strengths?
✅ What is your aim in life?
✅ What sets you apart from other candidates?
b. Group Discussion
Group discussion takes place in the presence of a board of directors, management, or a group of people. The candidates also appear for interviews in a group where a discussion is brought about on a certain topic given. The interviewers usually assess the communication skills, depth of knowledge, interaction, and initiatives as some of the parameters to shortlist the candidates.
c. Online Interviews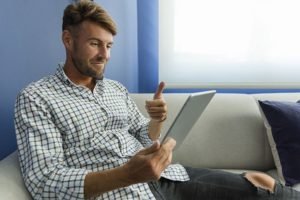 Online interviews work best for long-distance applicants. Initially, the telephonic interview was the only medium to assess, but now technology has made geographies seem seamless. Video calls have made the interviewing process much more comfortable. Skype interviews on the phone or computer monitors are a full-proof way to assess candidates online. The software industry mostly does online interviews for multi-location applicants. Online interviews eliminate the possibility of interview fraud by applicants who might set proxies for interviews.
Telephonic interviews still have that dark side and the software industry, to a large extent, having faced a brunt of this medium's exploitation.
Human Resource Professionals are skilled in evaluating the applicants far beyond their curriculum details and their experience. Not many applicants pass through the personal interview stage. This stage is a reality check of what an applicant has stated in the resume vis-à-vis experience and exposure. It is not necessary that fitting well in the technical or skills specifications will earn you a job; an applicant needs to match up with other skills too.
Step 7. Background Check
Conducting a background check is an important part of the hiring process. If this isn't done thoroughly in the employee selection process then it can cost the company a lot. Doing a thorough background check usually includes checking their aadhar card (or citizenship number), checking their address history and checking for any criminal record.
If you are unsure about how to go through this process make sure you get legal advice on the same. However, you should not skip on doing a background check.
Step 8. Reference Check
The reference check is a process that seals the fate of an applicant. The candidate post-offer has to undergo this process. The reference checks are the lines marked on rocks and often the deciding factors on an applicant's future with a company. Reference checks are sometimes mitigated and mostly bring out the right impression of the applicant.
Reference checks usually assess the following parameters:
✅ Cultural misfits
✅ Productivity barriers
✅ Personal conduct
✅ Reliability
✅ Punctuality
✅ Strengths & weaknesses
✅ Improvement areas
✅ Performance-related issues.
✅ Deliverance
✅ Management skills
✅ Leadership skills
Step 9. Medical Examination
The offer letter brings a mandatory clause of medical examination as a part of the recruitment process. Medical examinations are carried out to check the mental health, physical health, hearing & vision, drug tests, and other ailments that are life-threatening and confirm that the applicant is not in a state to take full-time employment.
A medical examination is mandatory, as different job roles require different physical and mental acumen. In major cases, medical examinations determine the physical, mental, emotional and psychological ability of an applicant. In some cases, they are performed just to ensure a healthy employee is a part of the organization.
Some organizations also engage in psychological tests for the applicants in addition to the medical tests ensuring a foolproof selection process.
Step 10. Final Decision
Finally, we come to the final decision about the candidate. This step in the employee selection process is one of the most important steps. The perfect candidate must now be chosen keeping all the data collected above in mind. It is important to keep all criteria in mind while making this decision. If the wrong candidate is chosen you can risk having to start the process all over again.
The final decision is made by the deciding authorities, the Human resource professionals and the manager. Make sure the candidate has all the intentions to stay with the company for a long time and has what it takes for the role.
Step 11. Offer letter
An offer is rolled out once the applicant is satisfactorily through the various selection criteria. Sometimes, a small meeting between the HR and the applicant is arranged for salary discussions and final negotiations.
Make sure all the important points have already been spoken of. Make sure the salary, working hours and bonuses have been spoken of early in the process.
Here are a few things to keep in mind at this stage.
The offer once rolled is also subject to further processes.
✅ Give the candidate good news about the job before creating the offer letter. This will give you a clear idea of whether they are going to accept it or not.
✅ Use an offer letter template to make things faster and easier for you.
At StartupHR we provide you with templates for everything you'll require for your HR processes. You can find an offer letter template and specific job description templates along with 1000+ other templates.
Employee Selection Process for Senior Management
The top management recruitment process is more or less on the same lines as others; however, it is conducted in a stealth mode to ensure complete confidentiality. Organizations receive applicants not through advertisements here, but by pure references from trusted sources.
The senior management recruitment process is often long and needs extra planning. This planning is called succession planning. The verification process for senior management roles is usually given to an external agency.
The employee selection process is a long process involving many activities that require testing and elimination all through the way. Some applicants are dropped midway for unsuitability. Applicant records are kept in the system for future reference in terms of job application and duplication.
Recruitment agencies ease a lot on the selection process by sourcing the right CV's and eliminating the preliminary steps like reviewing and shortlisting.
Selecting senior employees may be a task as they are experienced in their fields and usually know how to negotiate. In such situations, some organizations globally have ventured beyond the usual things that are discussed and have added things to their recruitment process. For instance –
✅ Google involves a community committee to take the final decision, vis-à-vis the decision of a single HR manager in most companies.
✅ Hilton uses Artificial Intelligence to conduct interviews and schedule the interview process for call centre applicants.
✅ Microsoft & Apple ask their applicants to take an assessment test with logic puzzles & brain teasers.
✅ HubSpot offers employee referral rewards as high as $10,000 to an employee on referring and prospective candidate selection.
✅ Creative Recruitment Campaigns by Ogilvy & Mather asking if applicants can sell them a brick is an unusual way to attract talent.
✅ Siemens uses gamification as a part of their recruitment process. Plantsville is a platform they have built to assesses applications for plant & manufacturing setup. It is a gamification tool that puts the applicant in the plant manager's approach.
✅ Virtual Reality is another tool organizations have incorporated in their interview processes.
Virtual reality is used for immersing experience in capturing applicant engagement, to assess applicants, and for offering a tour to show the office infrastructure. Jaguar, the luxury car brand, is utilizing virtual reality as a part of their recruitment process.
While some companies involve in performing the entire employee selection process, some outsource the whole operations for ease of action. The employee selection process is teamwork and carried out with much planning. Backups and deadlines are the significant factors at accomplishing a good employee selection process. Organizations are in a continuous recruitment mode, and they need a continuous supply of rich database and a recruitment system that is structured and aligned to select and retain the best talent in the industry.
In conclusion,
These are the 10 steps for an employee selection process. Each step in the employee selection process should be completed with most sincerity and zeal. Any mistake in the hiring process can be extremely costly for the company. Furthermore, selecting employees that do not want to commit long term to the company will also hard the company's resources.
The employee selection process differs in different organizations, and some methods listed here might eliminate, or some processes might add on. What we have shared is a standard procedure that governs the employee selection process of organizations globally.
Likewise, selecting the right candidate can be very useful for the company. A single candidate can have an effect on the work environment and can make all the other employees more productive.
Sign Up Here to Get The Latest Update And Special
Offer On Largest Collection of HR Documents