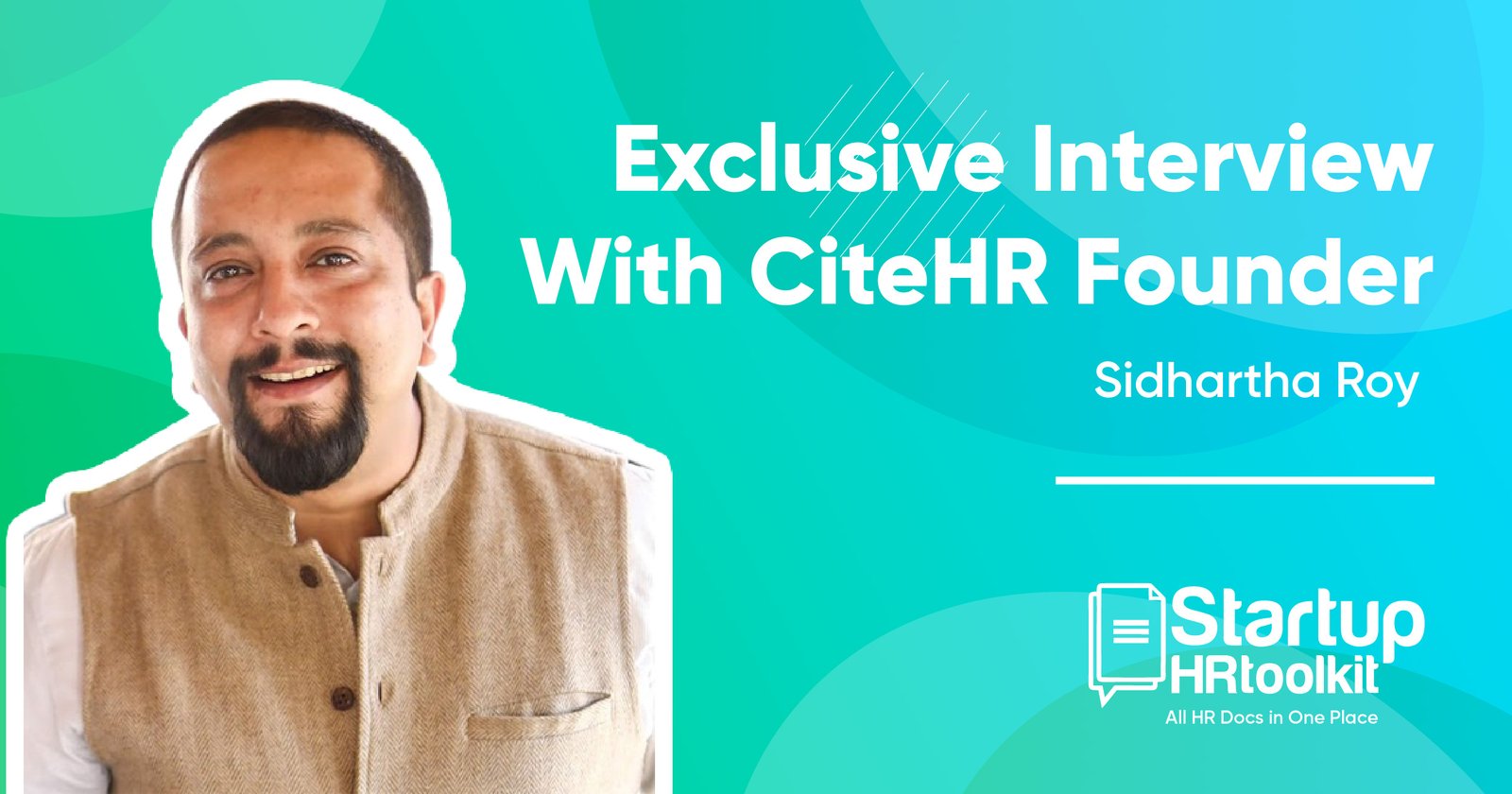 Sidhartha Roy is the HR founder of the largest HR community in the world- CiteHR. He has helped large numbers of people through this venture which is an array of business communities serving more than 1 Million users every month.  As the host of such a large community, CiteHR helps professionals, as well as students, connect with experts and peers to solve HR issues and for organizational development.
Over the years, CiteHR has served more than 150 Million professionals and helped them make better decisions and improvements in their professional and business lives.
1. How did you start CiteHR, tell us about your journey?
I started CiteHR in 2006. Originally, it was meant to be the background community to a job board with some unique privacy features. However, we soon found that there was a market fit for a well-managed board and so 'CiteHR' grew rapidly. Organically, I found myself dedicating more time towards managing the community than building the jobs section.
2. Can you share some interesting numbers and insights on CiteHR?
Over the lifetime of citeHR, we have touched the lives of over 150 Million professionals. We add about 1000 new users every day. Our aim currently is to continue to grow steadily and provide access to resources and connect people who can help businesses and professionals grow stronger and more stable.
3. What marketing hacks and techniques you used to build such a huge community?
People tend to assess the quality of a website through subtle signals such as the way the process is designed and described. These contribute to the overall vibe of the platform and how people behave within it. Marketing hacks work well with goods and products – a community is more about how you feel being part of it.
4. What has been your biggest learning, building this awesome HR community?
Any two people are more alike than they are different. A bit like a stereo equaliser. One's job as a community manager is to tune the strongest voices so they fit the symphony you are trying to create, eventually, it becomes the vibe of thousands of voices- different opinions but a clear tone and direction.
5. What were your greatest failures and what did they teach you?
My inability to let go of control and of obsessing over small details. I think it's important to start early, as children, to learn and to work in stages and to learn to scale.
6. How do you see the HR industry shaping up in the next 5 yrs? What would be the impact of technology on the same?
The HR industry will prosper and become more important in the coming years. Specific sectors like recruitment fit, learning and development, compensation and rewards will become more of a competitive edge than they already are today.
7. Do you plan to start any new properties?
Not at the moment. I keep dabbling with new ideas, perhaps something will germinate sooner than later.
8. What's next for citeHR and its members?
The primary objective currently is to become a hub for all business and profession-related support and service requirements. Unfortunately, the process is relatively slower with limited resources. We are also working towards improving and modernising the software we use.
9. What advice would you like to give to budding entrepreneurs?
First, choose an area which will always remain important – don't go micro-niche. Second, it takes time to gain stability. Sometimes, this takes a very long time and sometimes it might never happen. The key is to try to remain consistent even in your bad patches and keep serving the best you can.
10. Our readers would want to know more about the person behind CiteHR?
I think I am like most people – good in some things, bad at some. I love gardening (primarily growing interesting varieties of plants) and photography. But at the core, I think I am an editor and a community moderator.
Join a Community of 75,000+ HR Professionals