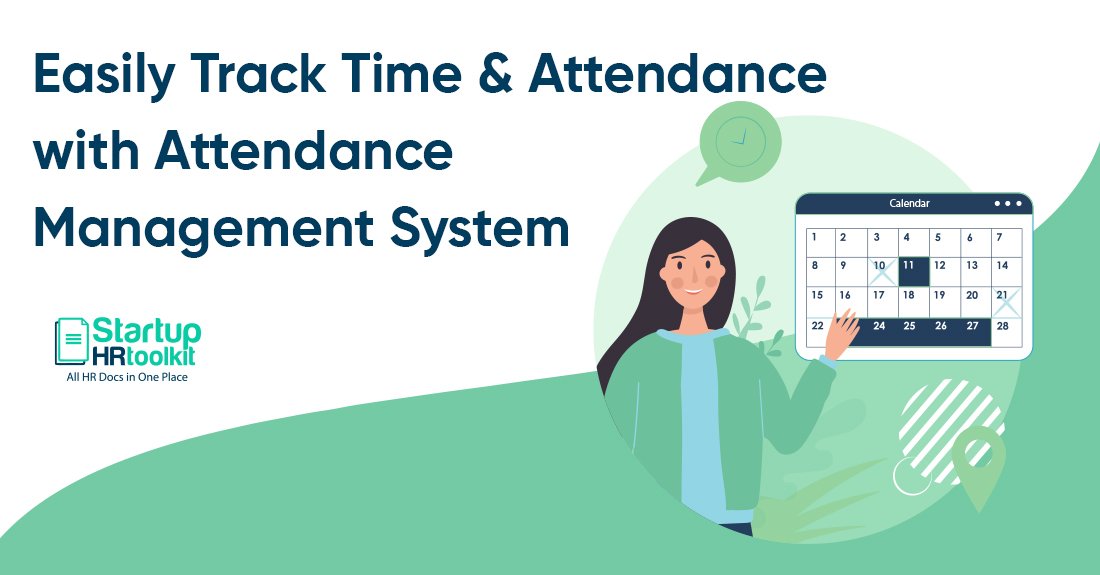 25 Attendance Management System: Track Time and Leaves
Are you still managing your employees' attendance through Excel sheets and making manual mistakes? Aren't you tired of managing everything through numerous Excel sheets that you can't keep track of? Then install an attendance management system in your organization to help you track your employees. Rather than recording your employee data on an Excel sheet, you can now directly manage your employee's punch-in, the hours they work, and when they take time off through an attendance management system.
What is Attendance Management system?
Attendance Management System is an HR tech tool that automates all the activities related to daily employee attendance, time, leave balance, and maintaining employee information. It automates the recording process when employee clock in-clock out time, break time is taken, absenteeism, etc.
This software saves time and also ensures accurate payroll processing by reducing errors. They also have additional features such as shift management, task scheduling, holiday management, reporting, insights, etc.
1. KekaHR
KekaHR was started because they were tired of using HR software that couldn't fulfill their needs. And now they have been in the business for more than 7 years and are growing towards excellence daily. They are an all-in-one software that caters to all industries and employee sizes, especially your attendance management system and payroll.
Features:
1. Flexible Policy
2. Realtime Integration Biometric Devices
3. Fingerprint, Biometrics, Face Recognition
4. Geo-based fencing
5. Tracking Policy
6. Data Analytics and reports
2. greytHR
The longest and the prime players in the HR Software industry are Greythr, and it is a cloud-based HR software that manages people and simplifies all the HR tasks in one go. They provide complete HRMS solutions, whether it is the basic requirements of an attendance management system or when it comes to features like Applicant Tracking Systems, PMS, etc.
Features:
1. Flexible, real-time attendance
2. Shift Management
3. 100% Statutory Compliance
4. Geomark, Geotag
5. Web sign-in
6. Customisable Attendance Policy
7. Multiple shift, Shift rotation
3. PocketHR
PocketHRMS has excelled in the HR market because of its various features, like Automated Chatbox, interactive dashboards, customizable documents, and much more. They improves the dynamics of any HR Department with the help of end-to-end HR features they provide. .
Features:
1. Biometric Integration
2. Geo-tagging, Geo-fencing, Geo-tracking
3. Overtime Calculation
4. Multiple Shifts Scheduling and Management
5. Cloud-based Attendance

4. Zimyo
You can easily streamline your HR processes with the complete package Zimyo has to offer. With a completely user-friendly UI & UX and automation, you can now manage all your HR processes at your fingertips. Zimyo is one of the leading HR software companies in the HR industry that caters to complete HR solutions no matter the business size.
Features:
1. Configure Customized Policy
2. Manage team's leaves and attendance
3. Generate reports in 90 sec
4. Monitor on-time, late, & absent employees
5. GPS-enabled geo-fencing
6. Realtime location
7. Track leave balance
5. HR One
HRone has redefined the new age HR software with its cutting-edge HR solutions that provide you with an attendance management system, leave and payroll, all the core HR features. HRone has only one mission to improve and be better at serving organizations with the best HR software. They believe in eliminating manual work processes and automating all HR activities with the help of their software.
Features:
1. Configure your leaves
2. Make multiple shifts
3. Make a holiday calendar
4. Update leave balance
5. Fix attendance calculation
6. Flexi Shifts, Strict Shifts, Break shifts
6. Superworks
Superworks understand the challenges HR and organizations face; that is why they have created software that easily overcomes them, as they help them to manage the employee's time and attendance tracking, payroll, leave, and more. They believe in innovating and learning every step of the way to help and create software that allows all.
Features:
1. list of all employee's Clock IN / Clock Out
2. Send approve/reject notifications
3. Leave Policy Setup
4. Check overtime time
5. Plan a vacation in advance
6. Biometric Attendance
7. Clock In – Clock Out with one tap

7. Paybooks
If you are looking to manage your attendance, leave and payroll, then look no further and choose Paybooks. They are on a mission to simplify payroll, a company that has helped more than 3000+ organizations set up systematic software to manage their employees easily.
Features:
1. Mobile App for Time Attendance
2. Salary Slips, submit income tax, payroll data
3. Geo Fencing, Geo Tagging
4. Quickly identify latecomers
5. Monitor global attendance
8. Teamnest
A cloud-based HR software that provides core HR functions, including an Attendance management system, an easy-to-use HR software that manages your employees and organization. Teamnest offers multiple HR features under one platform, which makes it easier for companies to choose Teamnest.
Features:
1. Web-based punch-in
2. Create working hours, shifts, and overtime rules
3. Realtime data integration
4. Mobile app and Biometrics integration
5. Analytics for HR Heads
6. Geolocation and IP rules
9. HRStop
If you are looking for Hire to Retire features, your search ends here; HRStop has complete HR functions you can think of to manage your company. They promise to save 50% of your time managing attendance tracking and payroll software—a straightforward, easy-to-use HR software with excellent customer support.
Features:
1. Leave/ Attendance Management
2. Shifts/ Rosters policies
3. Late entry management
4. Overtime management
5. Regularization policies

10. Darwinbox
DarwinBox is known to be one of the leading HR software companies; it just doesn't provide HR software, whatever Darwinbox provides an HR needs. The software empowers you to manage your entire employees, They believe there is always a better way to solve a problem, learn more things, and make necessary changes in the software accordingly.
Features:
1. Record time stamp and employee's location
2. Multiple check-ins over a day
3. Geofencing & Geotagged attendance
4. A.I.-powered facial recognition
5. Flexible leave deduction
6. mobile-first & voice bot enabled ESS7
11. FactoHR
If you are looking for simple and fast HR software, we present you with FactoHR, a complete HR solution catering to all business needs. They have been in the business for the past 17 years now. Software where you can nurture and manage your employees and workforce.
Features:
1. Auto Sync Attendance Data
2. Touchless Attendance
3. Mobile First
4. Geo-Fencing, Facial Recognition, Selfie Punch
5. Work Hours, Overtime and comp off, BreakTypes, late coming $ early going

12. Zoho People
If you want to manage your employees and companies every step of the way, then Zoho is your answer. It helps you empower and streamline your HR processes from onboarding an employee to exit that covers attendance tracking and leave payroll; everything can be managed through a few easy clicks. They have simplified HR practices for companies so that companies can build a high-performing workforce.
Features:
1. Helps track working hours
2. People Kiosk
3. Absence scheduler
4. Pay period configuration
5. manage employee attendance.
13. 247hrm
247HRM, the name says it all; they have been in the business for more than 7 years providing their HR solutions to all types of business verticals. they are constantly upgrading and evolving to help and solve the needs of their clients.
Features:
1. Flexible Shift Management
2. Advanced time-tracking
3. Shift Management
4. Time Recorder Data
5. Timings and Reward Hard Working Employees
14. OpportuneHR
Since 2004 OpportuneHR has been helping businesses install HR software that allows their companies to automate all their HR process through a few clicks. OpportuneHR is a cloud-based enterprise solution that provides on-premise solutions to organizations. They have designed the software in a systematic manner that can help every company operate all their HR operations easily.
Features:
1. Geo-Fencing
2. Real Time Attendance
3. Contactless Attendance
4. Time Attendance rules
5. PAN India local support for biometric
6. Rostering/shift scheduling
15. Qandle
Qandle is a modern HR management software provider. They are dedicated to helping businesses automate their HR processes and provide a wide range of features to meet the needs of modern enterprises. Their user-friendly, customizable solutions are appreciated by their clients.
Features:
1. Touchless Employee attendance tracking
2. Multiple attendance policies
3. Mobile punch-ins with geo-fencing or geo-tagging
4. Realtime Notifications
5. Synced with payroll
6. Break-time Tracking

16. Truein
Truein is one of the pioneers in the HR industry, making HR technology easy for companies. It is helping organizations to manage their workforce securely and effortlessly. One of the features provided by Truein is that employees can access their workplace with just one face recognition. They have revolutionized how businesses control and access their workspace.
Features:
1. Touchless Face Recognition
2. Mobile Attendance App
3. Staff and Contract Worker's Attendance
4. GPS Geofenced Attendance
5. Schedule Shifts Easily
6. Cloud Based Time and Attendance
17. Timelabs
Timelabs is a Cynosure Technologies product aimed at providing companies with relevant and cost-effective Line-of-Business software solutions. They offer a robust solution for Time Attendance and Payroll, serving more than 480+ customers nationwide. The solution leverages advanced technology to automate all operations, making it a preferred choice for many industry leaders.
Features:
1. Fast and Comprehensive Timesheet
2. Easy Pay Calculation
3. Multiple Time, Shift, Week, overtime
4. Monitor Daily Timesheet
5. biometric devices & RFID readers

18. Peoplehum
Peoplehum is an innovative global HR platform company based out of Silicon Valley. With a focus on redefining employee experiences, people offer a unified platform with an integrated ecosystem to adopt and grow as your business needs evolve. The platform is built for localization and multi-lingual support and leverages the power of AI/ML, NLP & Analytics to automate and drive people's decisions for a richer experience.
Features:
1. Shift Management
2. Biometrics & Self-Check-ins
3. Manage leaves in a single click
4. Shift scheduling
5. automated workflows, reminders & checklists
19. Kissflow
Kissfow helps design computer programs to manage work easily; they are like a digital helper that helps the admins take account and track tasks and projects while promoting teamwork. Their system is suitable for any business, and the mission is to make work effortless.
Features:
1. Customize your Time Logs
2. Manage Timesheet Entries
3. Integrate with Biometric and Payroll
4. Quick Approvals
5. Visual-Rich reports
6. Self-Service Dashboard
20. Asanify
Asanfy is about making work easier, and they have many innovative solutions to manage their tasks and projects. Their prime motive is to simplify how teams work together, which is the reason behind their user-friendly platform. Their software helps manage tasks, projects, deadlines, and communications easily.
Features:
1. Realtime Notifications & Reminders
2. Accurately Track Location
3. Multiple geo fences and AI-based face Matching
4. Mark Attendance Through Slack and WhatsApp
5. End-to-end attendance management
6. Clock-in/Clock-out through a web portal and App
21. Quikchex
Quikchex has created a smart solution that can handle complex HR tasks. Once implemented in your organization, you can work carefree and let the software take care of all the other HR activities. They believe in making work easy and manageable.
Features:
1. GPS + Selfie Attendance Tracker
2. Geo-fencing, IMEI, and IP Security Restrictions
3. Biometric Integration + Web Time Clock
4. Check-ins through the App
5. Create & Assign Different Shifts and Policies
6. Auto Calculation of Leave
22. Ubiattendance
Ubiattendance is providing innovative solutions for companies to manage employee leaves and attendance. Their main goal is to make time tracking easy for business. With the help of their advanced technology, you can keep track of your employees effectively.
Features:
1. Mobile Attendance App
2. Biometric Attendance
3. QR Code Attendance
4. Face Recognition
5. Leave and Time off
6. Team Planner & Team Attendance
23. Akriviahcm
AkriviaHCM is a trusted company known for their expert HR solutions in HR and Payroll. They use advanced technology to help companies magnate their HR tasks. That is, from recruitment to retirement, everything is taken care of.
Features:
1. Cloud-Based Attendance
2. Flexible Shift Planning
3. Realtime to Process Payroll on Time
4. Custom Reports
5. Shift Rosters
6. Geo-Tagging and Geo-Fencing
24. wallethr
WalletHR makes HR management easy, and they want to help all kinds of businesses, big or small, no matter the size, simplify HR tasks. It is all-in-one platform that helps companies quickly access all types of features that can help them manage their organization.
Features:
1. Geo-Tagging and Geo-Fencing
2. Managing-Number of Shift
3. Late and Overtime Management
4. Comp off, Overtime, Optional Leave Policy, Holidays
5. Realtime Synchronization
6. Constant Tracking of Clock Clock out Process
25. SumHR
sumHR is a complete HR solution software that provides all the features free of cost. They have recently partnered with Jupiter. If you want to acquire free HR software, register your company with Jupiter and enjoy the benefits of free HR software with complete HR solutions.
Features:
1. Free HR Software
2. Shift Planner
2. Geo-tagging
4. Clock in method (web, biometric, mobile)
5. WFH or Out-duty options
6. Employee hours, Break tracking, Overtime
7. Multi-device time tracking
In Conclusion
Finding the right attendance management system can be difficult, and various options are available because each software has unique benefits tailored to different needs and organizational structures. It is difficult to identify which features align best with your company. StartupHR Software helps you to find the best HR Software solution and helps to Schedule Demos.