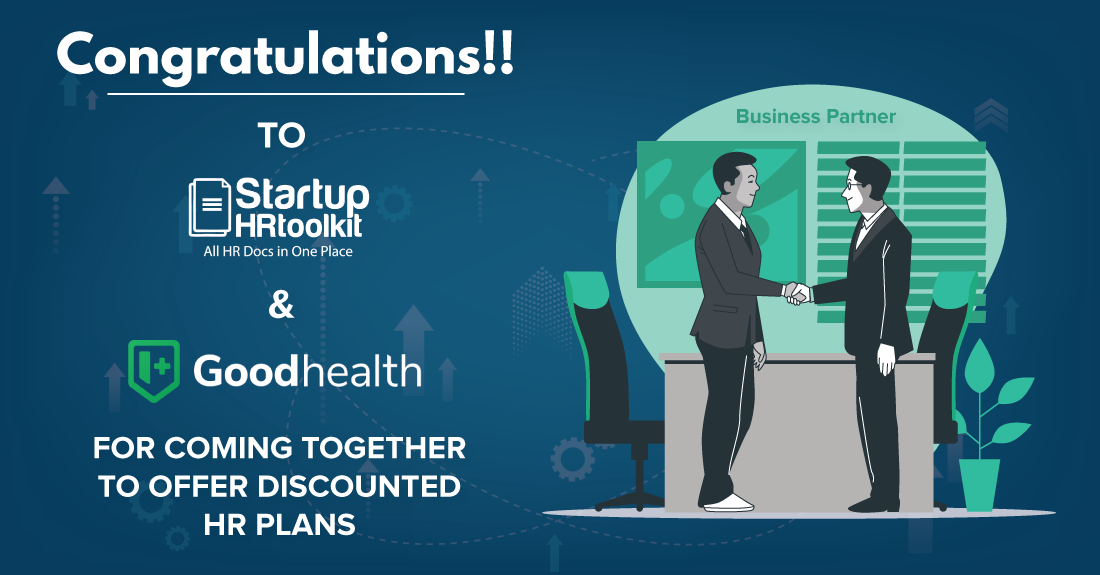 StartupHR Toolkit Partners With Good Health
Are you tired of making the same HR documents over and over again? Don't you wonder if there is a better way to manage those repetitive tasks? There is. We built the StartupHR Toolkit after asking those exact questions. We worked to make it easy to make HR documents. We've built the largest collection of HR documents but why stop there?
In this article, we will show you how we are getting even better. We are partnering with some of the top brands in their industries to build a product that makes it much easier to manage not just your HR processes but also your business.
About StartupHR Toolkit
StartupHR Toolkit is an all-in-one HR toolkit. We've created the largest number of ready to use HR document templates to make it easier for HR departments to do their documentations. The toolkit provides ready to use HR policies, calculators, letters, and documents. What's more? They are fully customizable to your needs. It helps HR professionals save time and focus on what truly matters – the people.
We aim to help you manage your HR processes easily and independently. This is why we work on going beyond the boundaries to make it easier for you to manage your HR processes easily.
While Goodhealth is helping make it easier for companies to manage their employee's health, the StartupHR toolkit works to free up the HR manager's time from repetitive tasks.
About Goodhealth
Goodhealth is India's leading health platform when it comes to employee health insurance and benefits. They have many engaging healthcare programs for the general well-being of your employees. Conversely, they also have specialized health insurance, like Covid Covers. Good health has several programs that cater to companies of every size and every sector. Their plans include Telemedicine, mental and emotional well-being, insurance, and healthcare ecosystem deals.
Goodhealth is dedicated to providing its clients with a healthy workforce. They have a 'One-click' benefits administration, wherein you can manage your employee's plans and enrolment in a single portal. Their telemedicine feature offers unlimited doctor's consultations for your employees as well as their families.
Their telemedicine and counseling sessions are easily accessible even to a remote workforce, making them perfect for the new normal of 'Work from Home'. They have a 24×7 claims concierge for your employees. Additionally, they have several plans and offers to fit your business requirements and offer tremendous savings on health care benefits.
GoodHealth offers a number of these vital health-care benefits. Let's take a look at how these might be the key to your business growth:
🗸 A good health insurance cover is often the most straightforward method to incentives and retains your talented workforce.
🗸 Health benefits and options for your employees are suited to your company's requirements, thus catering to your needs.
🗸 Offering health-care benefits to employees will help you to marginally save costs on health claims and covers.
🗸 A happier and healthier workforce will boost your employee morale and productivity.
The Offer
We've come up with an irresistible offer for our users. We're offering a flat 50% discount on our Startup HR toolkit Pro software for existing GoodHealth users! GoodHealth users will be able to customize up to 5 different documents in this plan. Also, they will experience the full-scale account management features, just like our existing HR users.
If you are a loyal StartupHR client, then we have something special for you too. You will get INR 10,000 FREE credits, just by signing up on Goodhealth! Now you may be wondering about what exactly this would mean for you and your employees. Let's take a closer look at how you can utilize those credits.
👉 You can avail of the telemedicine services for your employees and their families on the GoodHealth platform and their mobile app. These telemedicine services include consultations with leading experts and doctors in the field. This service also includes consultations for suspected Covid cases and test prescriptions.
✅ These credits can be used for organizing and attending mental health care webinars for your employees. GoodHealth firmly believes in the emotional and mental well-being of your company's workforce. These webinars are organized by some of the leading mental health experts in the field.
✅ GoodHealth also offers personalized one-on-one monthly health care sessions for your employees. These credits are redeemable for those sessions.
✅ You can also get a 1-year FREE subscription for GoodHealth's benefits platform. Both HR/ Admin and employees can avail the benefits offered on this platform.
✅ You get 1-year FREE access to Health Ecosystem Deals & Discounts for all your employees with brands like VLCC, Apollo Pharmacy, Fitternity, Baby Chakra, Sarva, and more
That's not all! Our HR Toolkit clients get to save an extra 20% in GoodHealth's monthly health plans. You can avail monthly services, including health services and health insurance, starting at just Rs 149/- per month.